Donor Spotlight – Dedicated to Centerstone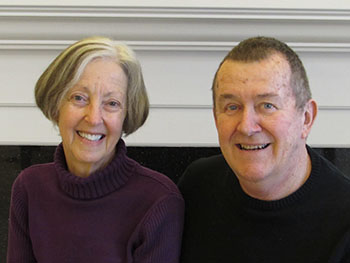 After retiring from Centerstone following 30 years of service Susan Pickens remains passionately committed to Centerstone's mission of Delivering Care That Changes People's Lives. We are delighted to recognize Susan and her husband, David Borcherding, as dedicated donors to the Centerstone Foundation.
Susan really enjoyed her role as Executive Assistant to the CEO. She witnessed many changes including mergers, change of name and service expansion. Susan was always motivated by the dedication of the CEO, Board and co-workers, as well as Centerstone's impact in the lives of children and adults. Susan has always felt a strong connection to Centerstone's mission as it aligns closely with her personal mission of providing support and help to people in need. Susan said about her work, "I was constantly inspired by the wonderful people I was fortunate to work with. Centerstone Board members and staff were extremely knowledgeable about behavioral health, were passionate in their outlook and worked together as a cohesive team."
Susan's passion for her work inspired her daughter, Kirsten Venhaus to pursue a career in mental health and also work at Centerstone. By the time he and Susan married in 2000 Dave was also fully supportive of Susan's personal mission and work.
In fact, it was Dave's idea that he and Susan become members of the Sapphire Society and make a planned gift to Centerstone as part of their will. Dave shared at this stage of their lives they believe it is important to give back to their community and leave a legacy to help Centerstone continue its mission to change lives. He added, "Susan and I understand the importance and impact of Centerstone's work and would like to encourage others to join with us in making a difference for children and adults."
The Sapphire Society
The Sapphire Society honors the generosity and commitment of individuals who have chosen to create a lasting legacy to Centerstone through their will, trust, retirement fund, life insurance, or other planned gift.
You can become a member of the Sapphire Society by making a planned gift to Centerstone. Society members share a common bond of generosity and the desire to help others. Your membership will help ensure that children, adults and families continue to recover, heal, grow and thrive through care received at Centerstone. Our gift officers are available to discuss specific designations that meet your philanthropic interests and goals. Your gift will deliver care that changes people's lives for generations to come.
To learn more about the Sapphire Society and planned gifts opportunities please contact foundation@centerstone.org or (615) 463-6645. One of our gift officers will be delighted to assist you.