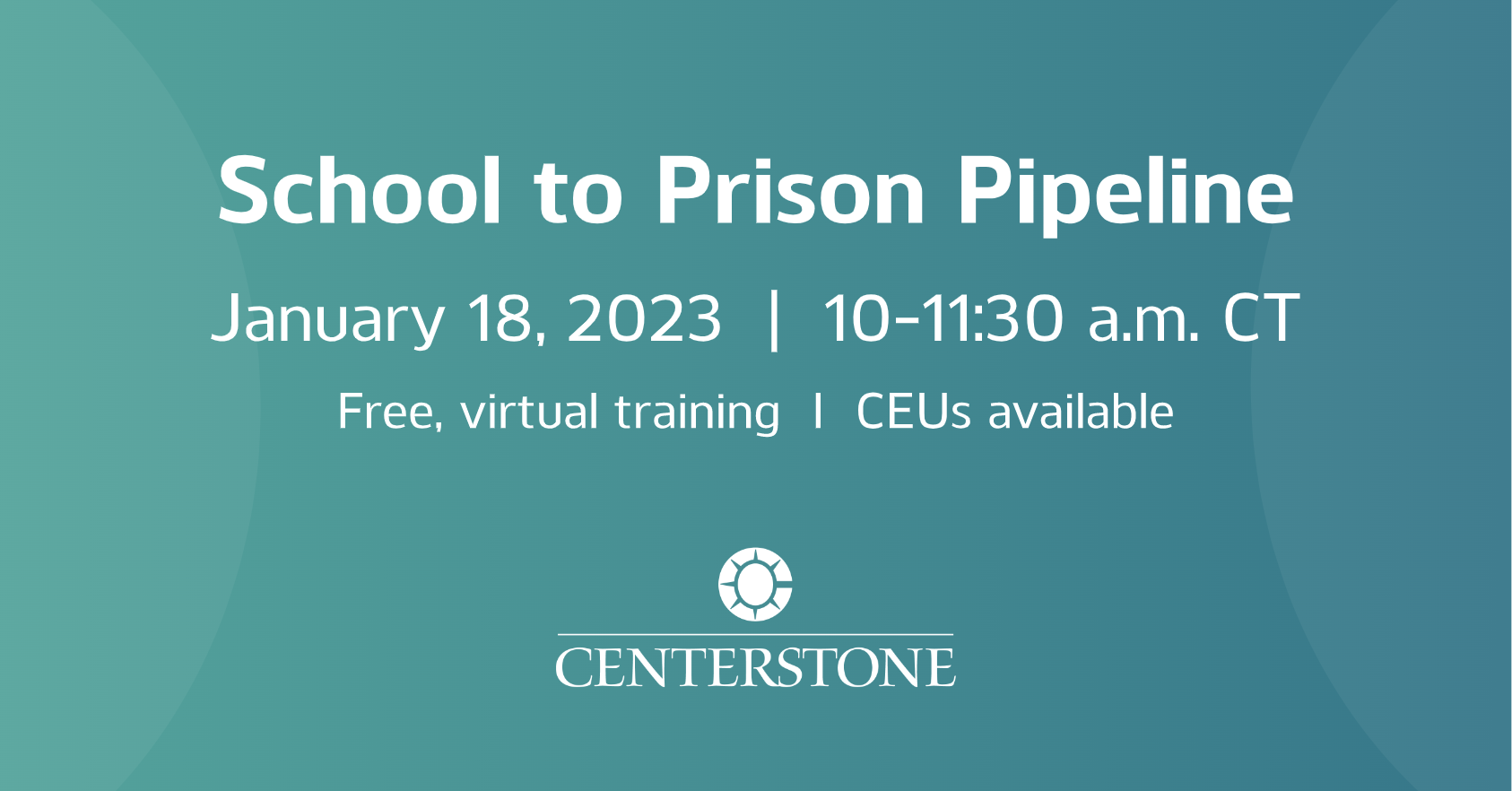 January 18 @ 10:00 am

-

11:30 am

CST
Virtual event
"Stop Acting Like a Child: The School to Prison Pipeline" presentation
Centerstone will host "Stop Acting Like a Child: The School to Prison Pipeline" presentation on January 18 10-11:30 a.m. CT via Zoom. CEUs are available and there is no charge to attend. Objectives of the training include: Gain insight into the impact of racism related to how individuals interact with children. Gain knowledge regarding the damage of labeling a child and how this label can become a self-fulfilling prophecy. Gain insight into the effects of negative disciplinary strateg
Centerstone will host "Stop Acting Like a Child: The School to Prison Pipeline" presentation on January 18 10-11:30 a.m. CT via Zoom. CEUs are available and there is no charge to attend.
Objectives of the training include:
Gain insight into the impact of racism related to how individuals interact with children.
Gain knowledge regarding the damage of labeling a child and how this label can become a self-fulfilling prophecy.
Gain insight into the effects of negative disciplinary strategies.
Gain knowledge regarding the long-term results of this phenomena
Participation in a solution-focused discussion regarding this phenomena.
The presenter of the training will be Jeremy Allen with Southern Illinois University – Carbondale (SIU-C). Allen is a Ph.D. candidate in Sociology at SIU-C who specializes in race. He has taught Sociology 108 Introduction to Sociology, 215 Race and Ethnic Relations in the U.S., and 303 Sociology of Deviance. He has academic training in stratification, race, criminology, research methods, and analysis. Additionally, Allen has decades of lived experience relating to his primary area of study.
This training has 1.5 hours of continuing education approved for IL LCPC / LPC, IL LCSW / LSW, and IL Nursing (LPN, RN, APN) under IDFPR Professional Counselor CE License No. 197.000263 and IDFPR Nurse CE Sponsor License No. 236.000184.
To register, click here. For more information, contact Hannah Chapman with Centerstone's Trauma, Treatment & Training program, at Hannah.Chapman@Centerstone.org.
This training is sponsored by Centerstone's Trauma, Treatment and Training (CT3) program.