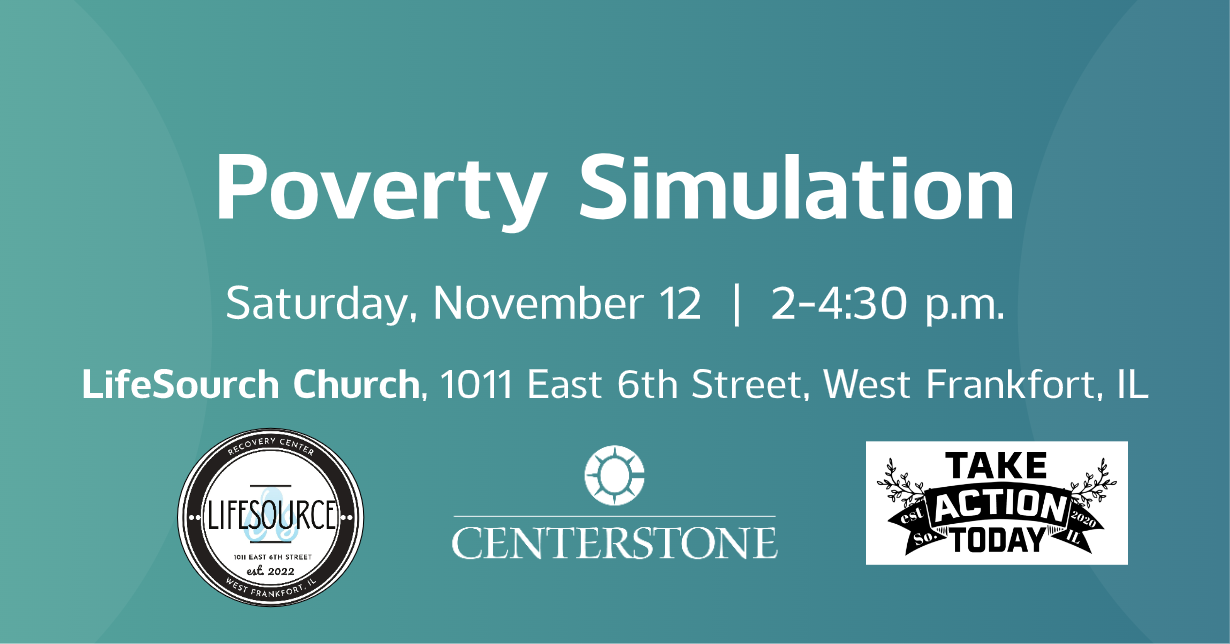 November 12 @ 2:00 pm

-

4:30 pm

CST
LifeSource Church
Poverty simulation event
Centerstone, in partnership with Take Action Today and LifeSource Church, will host a poverty simulation on Saturday, November 12 at LifeSource Church, 1011 E. 6th Street, West Frankfort, Ill. from 2-4:30 p.m. While there is no charge to attend, registration is required. Refreshments will be provided. To register as a participant, contact Raney at Kathy.Raney@Centerstone.org. The agenda for the event will be: 2 – 2:15 p.m. – Check-in, light refreshments, meet and greet 2:15 – 2:30 p.m.  – Centerstone Connections…
Centerstone, in partnership with Take Action Today and LifeSource Church, will host a poverty simulation on Saturday, November 12 at LifeSource Church, 1011 E. 6th Street, West Frankfort, Ill. from 2-4:30 p.m.
While there is no charge to attend, registration is required. Refreshments will be provided. To register as a participant, contact Raney at Kathy.Raney@Centerstone.org.
The agenda for the event will be:
2 – 2:15 p.m. – Check-in, light refreshments, meet and greet
2:15 – 2:30 p.m.  – Centerstone Connections program
2:30 – 2:45 p.m. – Take Action Today
2:45 – 3 p.m.  – Discussion on poverty and the simulation
3 – 4 p.m. – Poverty Simulation
4 – 4:30 p.m. – Debriefing and conclusion
Each simulation event will involve participants taking on roles of families facing a variety of challenging, but typical, circumstances, as well as roles of community resource providers. Some of the scenarios, provided by the Community Action Poverty Simulation, included:
A single parent with limited resources and no transportation must find a way to get to work and get their child to daycare
An elderly person must find a way to pay for both utilities and medication
A young adult must care for siblings while their parent is incarcerated
An elderly couple must raise their grandchildren and deal with their own health and employment issues
"The simulation allows participants to walk in the shoes of someone who is facing poverty and realize how complex and interconnected issues of poverty really are," said Kathy Raney, Centerstone's Connections Care Coordinator. "The event helps break down stereotypes of those experiencing poverty by having the participants momentarily experience the challenges that poverty creates."
This training is sponsored by Centerstone's Connections: Home, Recovery and Community program.