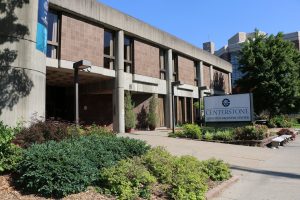 Centerstone Addiction Recovery Center is an 80-bed inpatient detox, rehab, residential and intensive outpatient facility for men and women living with addiction. Our program is designed to support clients through all stages of recovery. With less than 24 hours between assessment and start of treatment, you can begin your journey to recovery immediately.
COR-12™ Treatment Model
Centerstone believes in recovery-oriented medication assisted treatment (MAT), which combines addiction medicine with counseling and behavioral therapies, case management, peer support and linkage to the full continuum of community-based mental health, children and family services. Research indicates when treating substance use disorders, a combination of medication and behavioral therapies is most effective.
Clients will receive a comprehensive individualized treatment approach, which may include: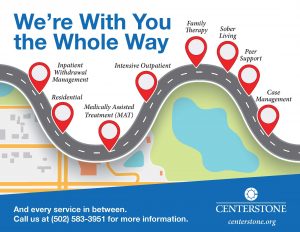 Rapid access to medication assisted treatment
Medically monitored withdrawal management
Short-term residential services for those who do not need withdrawal management but do need inpatient stabilization
Transitional housing
Intensive Outpatient Services
Supportive housing for clients who have completed residential and/or transitional housing
Targeted case management
Certified peer support services
Individual and/or group therapy
Continuing care
Specialty programs for pregnant women and new mothers
Addiction Recovery Center
600 S. Preston Street
Louisville, Kentucky 40202
(502) 583-3951