Meet the Team: Diana Miller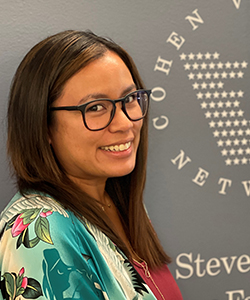 One thing is definite within the Steven A. Cohen Military Family Clinic at Centerstone – our team is a team.  Each and every staff member not only plays a crucial role in accomplishing our mission to ensure our military families receive the care they've earned, but they do so from the heart and with a passion that can't help but to inspire. Here's a closer look at one such teammate, therapist, Diana Miller.
Tell me a little bit about yourself, such as where you grew up and your background leading up to joining CVN?
I'm originally from Ohio. I moved a lot in my childhood but essentially was raised in Akron, Ohio (popularly known as the home of LeBron James and also just 10 minutes from the Football Hall of Fame). I'm a Licensed Clinical Social Worker. I attended the University of Akron for undergraduate and Fayetteville State University for graduate school. I'm a first generation Laotian-American. Both of my parents, eldest sibling, and maternal grandparents immigrated here for refuge from the Vietnam War. Working with veterans has always been a career goal for me so fulfilling that prophecy is near and dear to my heart. I come from a blended family and am raising one of my own which includes our two children (ages 13 and 2) and our two dogs (English Labrador and Miniature Shar-Pei). My step-father is a Veteran (Marine Corps), several of my family members are police officers, and I am the proud wife of an active duty Army soldier. Needless to say, serving and protecting runs deep in our family.
If a Veteran, can you tell me about your time in service?
I have been with my husband for 7 years and counting. He has been in the Army for 16 years. Since then, we have fulfilled 4 deployments and several trainings together that have physically separated us for a cumulative of 2-3 years so far and counting.
If a Veteran, what was it like returning to civilian life?
When we reintegrate as husband and wife and as a family after every separation, there are so many moving parts that it's easy for everything to feel overwhelming. The best thing we have learned to do is to lean into that space by surrendering to/accepting the circumstances and focusing on our gratitude, empathy, grace and patience with one another. It's not easy and we each have to make a conscious decision to honor ourselves and one another in the process. It's not original but it is tried and true- communication is key.
You've taken life experience and built a career to help others, what was your greatest takeaway from this process?
That we are all human beings with our own unique hurts, gifts, and dreams. That's easy to forget too when it comes to those closest to us sometimes or even when it comes to ourselves. Any time I forget that, I just have to recalibrate and remember that I'm a human being too and that it's not always about the outcome. It's often about being present for the journey.
What do you hope for clinic and your clients?
I hope we can continue to do the work that we do and continue to grow our services with the focus remaining on the emphasis of our veterans and their families. There are still so many barriers to address in the military population that I think our work and mission helps to break those barriers down. I am happy to be a part of that.
What do you like to do for fun?
Going to the beach, food related anything, spa related anything, singing and getting lost in a wide range of movies/shows/books. I've recently taken on calligraphy as a hobby. My husband and I cannot wait until he reaches his retirement so we can travel the world more!