Meet the Team: Hannah Nielsen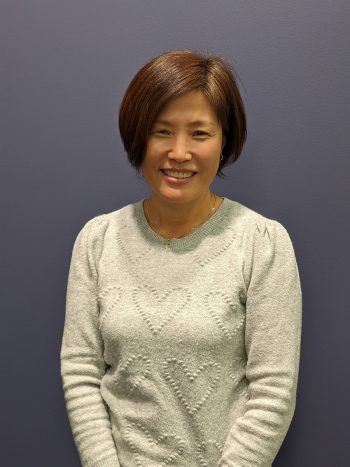 One thing is definite within the Steven A. Cohen Military Family Clinic at Centerstone – our team is a team. Each and every staff member not only plays a crucial role in accomplishing our mission to ensure our military families receive the care they've earned, but they do so from the heart and with a passion that can't help but to inspire. Here's a closer look at therapist, Hannah Nielsen.
Tell me a little bit about yourself, such as where you grew up and your background leading up to joining CVN?
I was born in South Korea and grew up there until married my husband and move to Clarksville, TN in 2001. I wanted to become a Christian counselor when I was in mid 20s. I remember my husband asking me when we were dating, what I wanted to do in the future. I shared about my dream and he supported me until I finished my master's degree in 2017. With experiencing military life as a wife and mother, it was natural for me to be drawn to have a passion to help soldiers and their families. I heard about CNV in El Paso when they were just opening their center there. The director, I think, came to a spouses meeting and shared about their mission and services. As I was listening to him, I thought CVN would be a good place to work and serve.
You've taken life experience and built a career to help others, what was your greatest takeaway from this process?
I learn from my clients every day. Their courage, passion, perseverance, and wisdom teach me a lot. Connecting with them as another human being who tries to understand them, hear them without judgment, empowering them, and walking with them in their journey is my privilege and witnessing them arriving at a better place is my reward.
How have things been going at the clinic since you arrived?
I feel very blessed to work with staff who are so helpful, kind, and professional.
Have you faced challenges so far in your time at the clinic?
Learning the Cerner system has been challenging but I am surrounded with people who are supporting and helping me.
What do you hope for the clinic and your clients?
Everywhere I look I see people doing their best to serve and help clients who walk into our center. I hope this good work will continue and more clients will be healed and be able to reach to the life that they want live.
What do you like to do for fun?
I like gardening, playing piano, and hoping to raise chickens and do bee keeping in the future.