Meet the Team – Sharjuan Burgos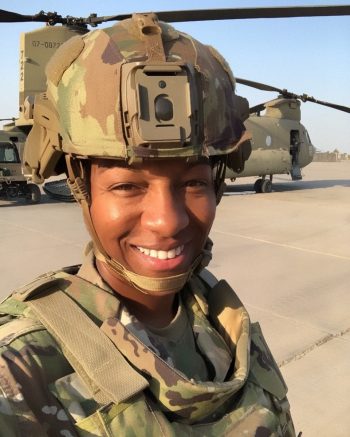 Tell me a little bit about yourself, such as where you grew up and your background leading up to joining CVN?
Well, my name is Sharjuan Burgos, I was born and raised in Daytona Beach Florida and I joined the Army right after I finished high school there. While serving in the Army, I proudly held every enlisted rank from Private to Sergeant First class and became a Drill Sergeant as well. After getting my degree I went to Officer Candidate School, and commissioned as an Officer to which I held my highest rank of Major. It's so crazy to think it was 27 years ago that I raised my hand to serve, but MAN I've enjoyed every bit of that wonderful ride! I have 2 daughters, my youngest is a sophomore in college at UNC Chapel Hill studying Biomedical engineering and Peace War & Defense, and my oldest daughter joined the Army 3 years ago and is currently stationed in Hawaii. My husband, whom I've been married to for 21 years, just retired from the Army this past July after 23 years on Active duty. We have two fluffy white Himalayan cats, one's name is Mouse, and he's 15 pounds of total laziness, and the other one is Koi (like the fish), who is the absolute greediest cat but the sweetest cuddler ever! On another note, I'm a self-made "car girl", as I have a NASCAR themed show car (hence Daytona 500) that I often take to shows. I purchased my car in 2012 after returning home from a yearlong deployment in Afghanistan. During that deployment, I was ultimately medevac'd out of Afghanistan to Landstuhl hospital. When I finally returned back home, that car became a coping mechanism for my PTSD and anxiety, as it gave me a creative outlet to occupy my mind.
If a Veteran, can you tell me about your time in service?
I'm proud of my military service and would do it all again if I had to. I spent 27 total years on active duty in the Army- 15 years of enlisted time, and 12 as an Army Officer. I was able to deploy on 4 different occasions to Iraq, Afghanistan, Kuwait and a multi-country deployment as well. I also had the opportunity to spend 3 years as a Drill Sergeant, training new recruits to be the best they could be, before I went to Officer Candidate School to commission. The Army was very good to me and my family. I was able to visit 16 countries, receive a Master's degree and begin a Doctorate, and ultimately reached my retired rank of Major. My experience as a Soldier was the most amazing thing I could have chosen to do.
If a Veteran, what was it like returning to civilian life?
I laugh, because I joined the Army straight out of high school. I went from being a H.S. graduate to a Soldier overnight it seems. So all I know is serving my country. Transitioning to become a civilian is by far the hardest thing I've ever done to date. Taking off my uniform feels like pulling teeth without Novocain (if you will), a very painful thing to do, but it was time to say good bye to active duty life. Right now I literally feel like a fish out of water flailing around without air. Suddenly the world is new to me. I had to figure out what I wanted to do with the rest of my life. I had to figure out how my military service translated to the civilian sector- which both like apples and oranges, I had to then figure out how on earth to fit into a civilian organization, and the toughest part of all was simply discovering exactly who "I" was besides a military Soldier.
You've taken life experience and built a career to help others, what was your greatest takeaway from this process?
My greatest takeaway is the pride I feel in how many years I've given for my country. It just felt so good to be able to say "I served". Knowing in my heart that there's not one thing I would change about my 27 years of service makes me smile. I have overwhelming confidence in the soldiers and fellow service members that will continue on in my absence.
How have things been going at the clinic since you arrived?
I have really enjoyed my onboarding to the clinic. Everyone has been extremely helpful. The resources provided to assist me with becoming a Centerstone employee were vast. I am more impressed with the knowledge base of Centerstone personnel in that they know veterans! They understand who we are and what we've done. Not many organizations are passionate enough to get this familiar and educated on all things veterans. Knowing that each employee is connected to the military in some way, form, or fashion has blown my mind. I've never felt so comfortable with a personal life change, and this one is huge for me!
What do you hope for clinic and your clients?
I am hoping my clinic can grow its client base like never before.  I hope that upon our opening, the local community and beyond are more aware of the service CVN and Centerstone provides to veterans. I also hope that our clients are so impressed with the service they receive, that they spread the word and return to us as needed.
What do you like to do for fun?
In my spare time I like to fix up my show car and spend time with family.
Favorite sports team?
Pittsburg Steelers of course!