Your invisible wounds as a spouse are often unrecognized, even by other military and veteran spouses. Your pain, your anguish, your sense of loss is every bit as real as these feelings are for our combat troops and veterans.
It's not only our warriors who need to heal from the invisible wounds of combat. You, the partners of our warriors, also need to heal.
The person who came home from war is different than the one who left. It's heart wrenching. You might feel as if you lost something important. This is at odds with the number of people who say, 'aren't you so glad he is home?' You may not be able to name the loss you have experienced, but it's a loss nonetheless and it's okay to mourn that loss.
You have permission to mourn what is broken for both of you. When spouses and partners cannot name the loss, they feel it's much harder to endure and work through the recovery from the traumatic stress of combat. Again, you have permission to grieve this loss just as you would any other loss. This is not a lesser loss.
You aren't failing because you cannot make things "like they used-to-be." The way things used-to-be was with a different person in a different time. The way forward is to understand that you are, or will be, creating a new relationship with your loved one. The most important thing for you to know now is that recovery is possible for you and your spouse. There are many resources and people to offer you hope and reassurance during your journey home.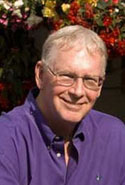 Ken Jones is a Vietnam combat veteran (11th Cavalry 67-68), a speaker, an advocate, and a writer. His focus is recovery from combat induced PTSD. Supporting our troops, veterans, and their families as they work their way through recovery from PTSD drives Ken to be actively engaged on Twitter, Facebook, and other social media venues. Although he served eight years as a volunteer and staff counselor at the Anchorage Vet Center, he is not a clinician. His comments and observations are based on his own experience of living with combat induced PTSD for the past 40+ years.