Medication-Assisted Treatment Program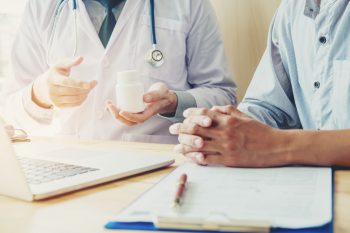 Recovery is the personal and unique way that a person changes attitudes, feelings, goals, skills or roles to overcome addiction and live a hopeful, productive life. Medication Assisted Treatment (MAT) alone is not enough to overcome addiction – individual and group therapy are vital in reaching and maintaining recovery.
MAT is an essential part of comprehensive treatment for opiate or alcohol addiction. FDA-approved medications are used to calm overly-active areas of the brain, reduce cravings and increase your chances of long-term recovery. Options include Vivitrol, Suboxone and Methadone; also, because individual and group counseling and therapy are vital to overcoming addiction, we will provide those services, as well.
Centerstone offers Methadone Maintenance Treatment (MMT), including guest dosing. According to the American Society of Addiction Medicine, MMT, "when used as part of a comprehensive treatment approach, continues to accrue evidence for its effectiveness in engaging and retaining patients in treatment, reducing withdrawal and craving symptoms, reducing opioid misuse, and reducing many opioid addiction-related health and social problems, particularly risk of infectious diseases."
If you or someone you know is interested in obtaining services at the new MAT facility, call Centerstone at 1-877-HOPE123 (1-877-467-3123) with the following information:
Name
Phone number
MAT services you are inquiring about:

Methadone
Suboxone
Vivitrol

If you are inquiring about treatment for you or someone else
If you are currently being prescribe MAT at a different facility

If you plan on transferring the treatment to the Centerstone facility
Hours of dosing are:
Monday – Friday: 6:30 – 11:15 a.m. and 12:30 – 1:15 p.m.
Saturday: 7:30 – 9:30 a.m.
Centerstone's MAT facilities are located in Marion and Alton. For more information about Centerstone's MAT program, call 1-877-HOPE123 (1-877-467-3123).