School-Based Therapy
Centerstone offers School-Based Therapy in more than 750 public schools. Providing integrated mental health treatment for children and adolescents, School-Based Therapists work within preschool, elementary, middle and high school facilities, helping students overcome behavioral, emotional or social problems that interfere with success at school and at home.
Common issues may include:
Aggression
Anxiety
Depression
Isolation
Poor social skills
Stress
Trauma
Truancy
Our therapists help students reduce disruptive behavior and improve self-monitoring skills. Integrated as members of the school team, we can serve youth in a familiar setting, offering minimal interruption to their school day.
SERVICES
School-Based Therapy includes:
Individual and group therapy
Family counseling
Risk assessments, as needed (suicidal or homicidal)
Specialized training and support services for parents and teachers
Collaboration with other community providers
Linkage to additional community resources
OUR STAFF
Centerstone's School-Based Therapists are master's level credentialed to provide services based on their degree in social work, counseling or psychology. These creative professionals partner with teachers, school administrators and parents to develop individualized treatment plans and behavioral interventions for students.
REFERRALS
Teachers, guidance counselors, principals, providers or parents may refer students for these services. To make a referral or sign up, call the child's school and ask to speak with a Centerstone School-Based Therapist.
FUNDING
Funding for Centerstone's School-Based Therapy varies from county to county. Services may be funded by state or federal grants, TennCare, private insurance or self-pay. Call Centerstone to learn more about School-Based Therapy in your community.
SCHOOL LOCATIONS
Centerstone serves students in more than 350+ locations throughout Tennessee. View a our list of locations by county below.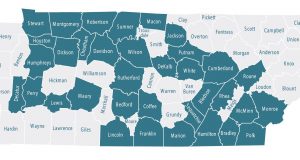 If you are associated with a school that is interesting in learning more about Centerstone School-Based Therapy, please contact us via email.