Centerstone commences $4M hospital renovation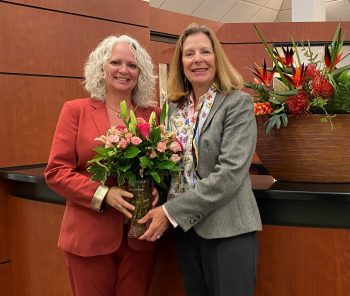 24/7 Access Center and inpatient units focus of expansion and upgrade
Centerstone, a national leader in behavioral health care, is undertaking a $4M renovation and expansion of its hospital and addictions center at 2020 26th Avenue East. Construction will be completed later this year.
The scope of work includes expansion of the 24/7 Access Center, new patient rooms and nurses' station on the psychiatric unit of the hospital as well as the creation of private rooms and additional meeting space on the hospital's addictions unit.
Centerstone's investment in its facility is being made possible in part by donations from two area foundations: Bishop Parker Foundation and William G. & Marie Selby Foundation. Bishop-Parker Foundation's $1M contribution is making several hospital upgrades a reality; a $100K donation by William G. & Marie Selby Foundation has been earmarked for new safety doors on the hospital unit.
"This renovation will further our safety efforts, expand capacity on our hospital unit and provide added comfort for patients," explained Melissa Larkin-Skinner, CEO, Centerstone – Florida. "Our hospital was built in 1955 and over the years we have expanded accordingly to accommodate community need. These current upgrades will allow us to care for additional patients in new surroundings that are conducive to healing, and will bring our total hospital bed count to 41.
Larkin-Skinner added, "This initiative has great significance because of the support we are receiving from Bishop-Parker Foundation and Selby Foundation. We share a strong commitment to community and to enriching the lives of those we serve. Centerstone has had a long-standing relationship with William G. & Marie Selby Foundation and looks forward to working with Bishop Parker Foundation under its new banner."
"We are proud to partner with Centerstone to enhance the vital services they provide and look forward to helping ensure mental health care is accessible, especially during these difficult times," said Adell Erozer, Executive Director, Bishop Parker Foundation. The Edward E. and Lillian H. Bishop Foundation was incorporated in 1964 and has made outstanding philanthropic contributions to Manatee and Sarasota organizations that have greatly impacted their ability to implement mission goals. After the Bishops' passing, Mary E. Parker carried on their legacy of philanthropy in addition to setting up and administering her own Foundation. The mission to support non-profits in providing critically needed services has positively impacted the lives of thousands of people and animals through the years.
Centerstone's Access Center assesses children and adults who are experiencing a mental health and/or addictions crisis and determines need for further stabilization, hospitalization, detox or other related inpatient service. Staffed by a team of behavioral health clinicians, the center is open and available to the community 365 days, serving some 19,000 individuals annually.
Centerstone's hospital is currently comprised of 20-psychiatric beds for treating adult individuals' mental health needs and 17 addiction beds where detox services and inpatient addictions rehabilitation programming are provided. In FY 2021, Centerstone's Florida team of psychiatrists, nurses, psychologists, licensed therapists, addiction counselors, clinical care coordinators/case managers, peers, and continuing care treatment consultants provided 491,313 services.
In addition to the hospital, the Bradenton campus houses a 28-day residential addiction program that can accommodate 30 adults and facilities for an outpatient Medication-Assisted Treatment (MAT) program. Outpatient services are offered at three locations in Bradenton and Sarasota.