Centerstone is hosting a free Narcan distribution event in Marion, IL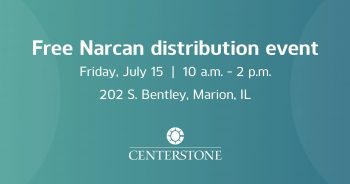 Centerstone, a nonprofit health system specializing in mental health and substance use disorder treatments, in collaboration with Egyptian Health Department, will host a free Narcan distribution event on Friday, July 15 from 10 a.m. – 2 p.m. in the parking lot of Centerstone's Medication Assisted Treatment (MAT) Clinic, 202 S. Bentley, Marion, Il.
The event will be free and open to the public.
"Help us stop opioid overdose deaths," said Stacy Seitz, Centerstone Clinical Service Director. "Come see us July 15 and claim your free Narcan kit."
Every year in Illinois more than 2,000 people die from an opioid overdose. NARCAN is an FDA-approved medication that can help reverse the effects of an opioid overdose in just minutes.
If you or someone you know is struggling with opioid addiction, pick up a free Narcan rescue kit and receive training on how to administer it. Also available will be information on recognizing an overdose, understanding the risks of relapse after a period of abstinence, and developing a relapse prevention plan.
If you are unable to attend the distribution event, Centerstone provides free Narcan kits Monday-Friday at their MAT Clinics: 2615 Edwards Street in Alton and 202 S. Bentley in Marion.
"Anyone who is at risk of having or witnessing an opioid overdose, or who spends time with people who use opioids should consider carrying Narcan on them," said Samuel Stearns, Centerstone Community Development Representative. "You never know when you will need to save a life." For more information, please contact Samuel Stearns at samuel.stearns@centerstone.org.