Centerstone to Host Art Show Featuring Work From Youth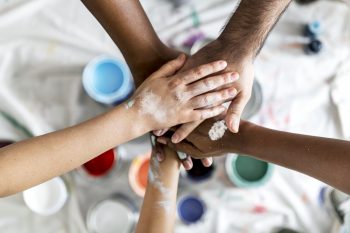 Centerstone, a national leader in behavioral health care, is hosting an art show, The Pandemic Project: Processing the Pandemic through Art, at John A. Logan College on May 6 from 6:30 – 9 p.m. Admission is free. Everyone is welcome. Finger foods and drinks will be available.
The art program at Southern Illinois University Carbondale (SIUC) put together the curriculum that area elementary and secondary schools facilitated with their students. Schools throughout Southern Illinois were invited to participate in The Pandemic Project curriculum. One participating school district is Zeigler-Royalton Community Unit School District 188.
"My students and I are still in the process of working through this project in multiple classes. What it added was a neutral entry point to discuss multiple views on a very touchy subject for many," said Michael Berry, Zeigler-Royalton art instructor. "For most of the past few years, I have tried to keep kids focused on anything but COVID, restrictions, and everything in between. This project was a way to allow all students to express themselves through art and discussions where there were no right or wrong answers, just people sharing their personal experiences."
The elementary curriculum challenged local schoolchildren to create art on topics that differed by grade level.
First- and second-graders explored the idea of togetherness. Students worked together to fill a large poster with art that showed how they remember togetherness changing during the pandemic. Students also created individual pieces to show how they imagine togetherness will look after the pandemic.
Third- through sixth-graders created art that depicted perseverance. Students completed a large project to show how they have persevered through tough experiences during the COVID-19 pandemic. Some third- through fifth-graders created a book about pandemic experiences focusing on collaboration and shared experiences. And, some fifth- and sixth-graders created art based on their concept of disappointment. Students also created a self-portrait revealing different parts of themselves and the emotions they experienced, as well as their goals and dreams.
The secondary curriculum consisted of the following lessons:
Satire is the Best Medicine. Students examined how the world responded to the pandemic satirically to encourage a re-examination and new perspective of the pandemic.
In the Oasis. Students reflected on the ideas of comfort and escapism, recalling media or content they consumed during the pandemic and then creating an oasis that shelters them from reality. They created a video with their oases as background, noting what got them through this tough time.
Masking Your Feelings. Students explored the concept of emotional masking, reflecting on their experiences during the pandemic and using them as inspiration to create their emotional mask out of a medium of their choice. Students were also introduced to contemporary sound art and were asked to create their own to juxtapose or enhance their emotional mask.
Supporting Evidence. Students identified the supports they needed that were missing and the supports that changed for them during the pandemic. Then, students expressed that knowledge through industrial design.
Uncertain Times. Students created art using any medium to portray their experiences with uncertainty.
For more information, contact Centerstone's Building Compassionate Communities Grant Coordinator Zachary Schumacher at zachary.schumacher@centerstone.org.
Centerstone's Building Compassionate Communities program is sponsoring the art show in partnership with Illinois Art Education Association, School of the Art Institute of Chicago and SIUC.
Building Compassionate Communities help families and communities with everything that goes into being a family, while focusing on strengthening resilience, improving access to healthcare, and enhancing the overall mental health service array.
"BCC serves anyone who is a part of a child's life," said Schumacher. "The project's focus is improving the lives of children and their families, but the impact is felt by every person in their lives – other nearby family members, teachers, coaches, counselors and so on."
BCC works with non-profits, school districts, healthcare systems and other community partners to focus on improving the lives of children and families. BCC supports the Family Services program at Centerstone. Family Services provides telehealth, at-home, office or in-school services. Family Services counselors help families with:
Mental health screenings
Mental health services for youth and families members
Juvenile justice system navigation
Special education and individualized education plan (IEP) help
Reducing stereotypes and stigma related to mental health
Preventative care
Access to care
Immediate and long-term needs for families of children impacted by mental health
Peer provided services
Support groups
Parent education groups
"When a family isn't functioning well for whatever reason, children are deeply affected. Some families have broken pieces that Centerstone wishes to help put back together. Together we can find what's missing and make your family feel whole again," said Schumacher.
"Additionally, Southern Illinois has seen a rise in poverty over time. This comes with challenges to accessing nutrition, mental health help and basic self-care. As poverty increases, the quality of these items decreases. We're working with community partners to increase the quality of life for children and families in these communities, which will in turn improve this part of the state."
BCC supports communities, children, and families who live in Franklin, Jackson, Perry and Williamson counties. The Family Services program primarily works with local schools to provide mental health services to children with Medicaid.
There are multiple ways to get started with the Family Services program at Centerstone:
Families can take the initiative and call 1-877-HOPE123 (877-467-3123). When you call, make sure you know what school district your student is in attendance and your insurance information. You don't have to know exactly what kind of help you need to receive it – once you're connected, our staff will guide you through the process.
Schools can recommend families. Every partner school has a referral process through which they can refer a family directly to a counselor. From here, a project coordinator will help the family and begin services.
Outside agencies, such as hospitals, can get a family connected to Family Services. The process is similar to that for families: the agency will call 1-877-HOPE123 and begin the initial screening there.
For more information, visit Centerstone.org/bcc or contact us today at 1-877-HOPE123.