Centerstone's 20th annual Life;Story 5K/10K race nets $75,565 to support mental health and addiction services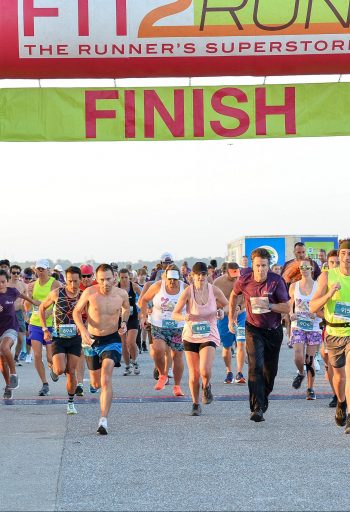 Centerstone's Life;Story 5K/10K race was held on September 24th at Nathan Benderson Park in Sarasota, and this year raised more than $75,000 to support mental health and addiction services for people with little to no resources. A nonprofit health system specializing in mental health and addiction care, Centerstone has hosted the Life;Story race for 20 years and in the last two decades has grown it from a small southwest Florida event to one that includes participants from all across the country.
This year's race saw 776 participants from 17 states and Puerto Rico. One hundred and eleven runners participated virtually while the remaining 665 competed locally in Sarasota.
"The primary mission of the Life;Story race is to spread the important message that your life matters. Life can be difficult and overwhelming, our emotions can get the better of us somedays. We want you to know we care, we are here to help, we want your Life;Story to continue," said Melissa Larkin-Skinner, regional chief executive officer at Centerstone. "This year it was an honor to hone the focus of the event on veterans and military service members, a group who endures unique challenges and whose risk for suicide is 1.5 times higher than the national average."
Following the race, there was a closing program featuring Ret. Marine Corps Major General James S. "Hammer" Hartsell, executive director of the Florida Department of Veterans' Affairs. Hartsell spoke about the mental health difficulties faced by our nation's veterans and his efforts to expand Firewatch Sarasota. He was presented with a 2022 Life;Story Champion Award by Centerstone Board Member and Veteran, Ann Campbell. Other speakers included Ret. General Mike Fleming from Cohen Veterans Network and Arika McCormack of Sarasota Health and Rehab.
Tribute presenting sponsors for this year's race included Patricia Lucas, and Sunset Automotive Group partnered with Academy at Glengary. The 21st Life;Story 5K/10K race is planned for Saturday, September 23, 2022. For more information, visit Centerstone's website.
About Centerstone
Centerstone is a nonprofit health system providing mental health and substance use disorder treatments. Services are available nationally through the operation of outpatient clinics, residential programs, the use of telehealth and an inpatient hospital. Centerstone also features specialized programs for the military community, therapeutic foster care, children's services and employee assistance programs. Centerstone's Research Institute provides guidance through research and technology, leveraging the best practices for use in all our communities. Centerstone's Foundation secures philanthropic resources to support the work and mission of delivering care that changes people's lives.