Expressive arts at Centerstone's Halfway House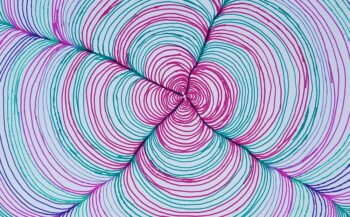 Centerstone, a nonprofit health system specializing in mental health and substance use disorder services, is using art to help deliver care that changes people's lives.
One exceptional shift supervisor at Centerstone's Halfway House in Marion has discovered an innovative way to incorporate her passion for the arts as a means of connecting with clients and leading them on the road to recovery. Lillian Spice, who received a Master's of Fine Arts in Painting, has made her dream a reality by providing residents at the Halfway House with the opportunity to expressive themselves through the creative arts in what she describes as a "chance to be inspired, to discover and develop new skills, and reflect."
Once a week, Spice invites clients to take a look inward and express themselves through a variety of methods including, painting, drawing, and even creating jewelry. Spice discovered her passion for creative expression during her time in graduate school, where she studied abroad at Scotland's world famous Glasgow School of Art.
"The Scottish landscape, the architectonic sites and the ancient stone circles provided me with a bank of meaning and source of inspiration for my artwork.  This artwork culminated in numerous art exhibitions. Inspiration, creative expression and public display. In a way, that is what I hope to offer my clients here at the Halfway House," said Spice.
When exhibiting new art pieces to the group, Spice always emphasizes that, "the process of art is more important than the end product."  That is because art harnesses what Spice describes as "our attention on the here and now, halting any concerns about the past or future.  It alleviates anxiety."  Spice says that her and her team have observed how much a client's self-esteem grows as they develop their new art skills. Not only does their confidence grow, but so do their social skills, shares Spice.
"The participants not only learn from one another, a dialog soon is established among those who share the same time and space, paints and brushes. Success with painting, or any art form, leads to success with many other things.  It carries over into other parts of life and recovery," Spice said.
In the future, Spice hopes to showcase her clients' artwork by setting up display boards that the art can hang from.  Eventually, Spice would like to take her clients' artwork beyond the perimeters of the Halfway House to other Centerstone facilities or even to the local library.
"Perhaps local businesses would be inclined to sponsor an art exhibit once they see the caliber of art produced here at the Halfway House. Exhibiting the art of those we serve not only speaks volumes on the care we deliver, it also can engage and educated our community," said Spice.
If you are interested in displaying artwork from the Halfway House at your organization, contact Samuel Stearns, Centerstone's community development representative, at samuel.stearns@centerstone.org.
To learn more about Centerstone or the Halfway House, please visit www.centerstone.org. To make a referral, please call 1-877-HOPE123 (1-877-467-3123).