Free counseling is available for the metro St. Louis military community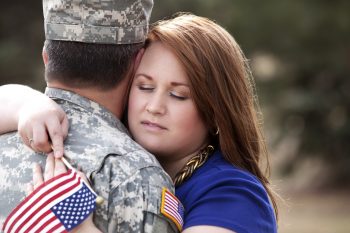 Military life is challenging, due to deployments and temporary duty assignments that take service members away from home and numerous relocations. These challenges impact not only service members but also their spouses and children, and many of these effects can last after leaving the military.
"At Centerstone, our providers are specifically trained in military culture, so they know their clients' struggles in that respect," says Jodie Robison, executive director of Centerstone's Military Services. "In addition, our providers are trained in the evidence-based practices that are proven to be effective in the treatment of many mental health problems."
We are here to help, if you fit these three criteria:
Are you an active-duty service member; a member of the National Guard, Reserve or Coast Guard; a veteran from ANY service era; or a family member of someone in one of the previously mentioned groups?
Are you struggling with a mental health problem such as (but not limited to) anxiety, depression, PTSD, substance use, relationship problems or readjustment problems?
Do you live in the metro St. Louis area?
If you answered yes to all three of those questions, you can see one of our specialized counselors at no cost. Each person can get up to 12 visits with us completely free.
We have immediate openings for clients, but availability is limited, so contact us today!
Our services include the following:
Confidentiality: Your information will not be shared by with anyone other than your assigned counselor.
Location: We offer both in-person and telehealth services.
No cost: Get up to 12 sessions completely free.
Inclusivity: We're here to help you regardless of the era in which the veteran served and regardless of discharge status.
Whether you're a service member, a veteran or a family member of someone who has served in the military, we want to give back to those who have sacrificed so much of their lives for ours.
For more information, go online to centerstonemilitaryfamilies.org or call us at (866) 425-9828.
Funding for these services in the metro St. Louis area graciously provided by a grant from Boeing.