Jennifer Kesler earns The Arc of Illinois' Direct Service Professional Award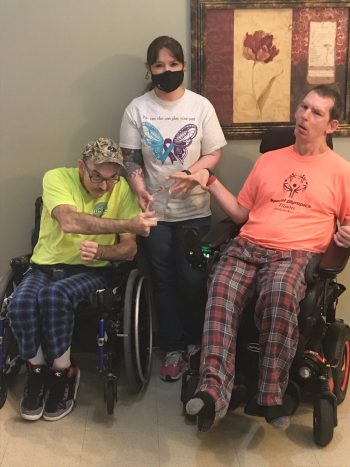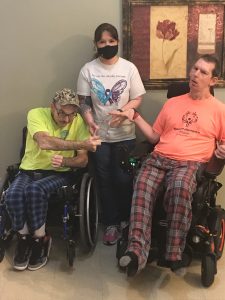 Jennifer Kesler, a residential manager at Centerstone, was recently honored with The Arc of Illinois' Direct Services Professional (DSP) Award for her outstanding, dedicated, direct care service and support to persons with intellectual and developmental disabilities.
Nominations were open in early 2021, and Jennifer was selected as one of 10 finalists in March. The winner was announced during 71st annual The Arc of Illinois' Convention. The conference was held virtually and Jennifer was recorded as two Centerstone residential clients presented her with the award; that video was shown during the virtual convention.
"Jennifer is the hardest worker I have ever seen in my 15 years as a supervisor," said Amanda McClellan, Centerstone residential manager, who nominated Jennifer.
"She is always caring for our clients," Amanda continued. "If each of our clients were asked who their favorite staff is, it would be Jennifer. They know they can depend on her for anything they need. She goes above and beyond for them and treats them like family."
Angie Robison, a residential coordinator at Centerstone, also nominated Jennifer for the DSP Award.
"Jennifer goes above and beyond for the clients," Angie said. "I can depend on Jennifer for anything! She puts the wellbeing and safety of the clients first."
Amanda and Angie listed some of the reasons why they nominated Jennifer for the award:
During Jennifer's four years at Centerstone as a direct service provider, Jennifer has grown as a leader among her co-workers.
She puts our residents first. They are her first priority
She is very good at multitasking and completes all tasks assigned to her.
Jennifer works in a program with residents who have many targeted behaviors and complex behavior plans. She is excellent at de-escalating challenging behaviors and even better at minimizing the triggers that create the behavior in the first place.
Jennifer has a bond with our clients that is amazing to see and she is the heart of their home.
All of the clients know that they can count on her for anything they need, even though trust is something that many of them find difficult due to past traumas in their lives.
"My uncle was born with a mental disability, so I have always been drawn to this line of work," Kesler said. "I like residential work because I feel that I make a difference."
About The Arc of Illinois
Arc of Illinois, a social services organization, helps individuals with intellectual and developmental disabilities. For more information, visit www.thearcofil.org.