Renee's Recovery Journey: From Client to Recovery Specialist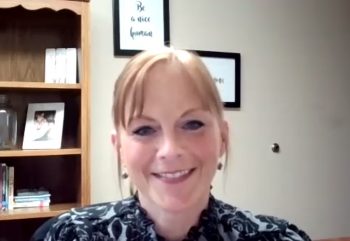 Addiction is not something a person can simply "snap out of" or walk away from overnight – addiction is a mental illness and requires treatment as such for recovery to be possible. When a person has a substance use disorder, it is nearly impossible to stop cold turkey.
Recovery can be a long process that requires dedicated time and effort, as well as support from others. This is exactly what Renee Tate discovered when she first arrived at Centerstone.
The beginning of the journey
When Renee first arrived at Centerstone, she had nothing left. "I was broken, beaten down, and I had lost everything," she says. After losing her family, home, child, career, and being involved in the corrections system multiple times, Renee was desperate for a change. She could not even imagine what 28 days of recovery in a rehabilitation center was like, let alone a substance-free life after, but she was ready to try.
"I was what most would probably consider a lost cause. But not here." When Renee came through the doors at Centerstone, she was immediately welcomed. "The staff welcomed me and encouraged me. They treated me like a person with value and potential, and they showed me that I mattered." Renee stayed in recovery at Centerstone's Fellowship House for 28 days, and they connected her to a transitional living facility after discharge. As she continued navigating through early recovery, Centerstone continued to provide her with outpatient services and other resources.
From client to specialist
But Renee's story did not end with recovery only for herself: she soon sought out work with Centerstone's recovery services. After making progress in her own recovery, Renee began to work at Centerstone as a Peer Recovery Specialist. "As soon as I saw the job, I thought it was genius. What better way to help others find recovery than by sharing your own story?"
In Renee's role as Peer Recovery Specialist, she is not only allowed, but rather encouraged to share her story. She believes this helps her build more credibility with her clients, helping inspire them to continue in their recovery. In her work at Centerstone, Renee shares bits of her story daily, using her experience to help others navigate on their own journeys.
The difference
Renee's life before and after recovery is as different as night is from day. "My life with substance use disorder was full of darkness. Every day I traded off something of more importance for my drug use."
Now, Renee feels the freedom that recovery has given her. "I have my son back, an amazing daughter-in-law, and grandchildren who will never have to see me under the influence. My parents say, 'We have our daughter back.' I'm a legal driver, I have a car with insurance and a home, and I have real friends who support me and I support. I've found joy, peace, and love. Recovery never ends, and every day has its challenges, but life is even better than it was before I started substance use."
If you need help with substance use, you don't have to do it alone. With Centerstone, you have access to a community of people who are here to help you. "You could go back to what you had. But once you give this a try and see that it's good, I think you'll stick with it."
If you would like to know more about Centerstone's recovery services, visit our Addiction Recovery Page or call us at 1-877-HOPE123 (877-467-3123).