Robin Wrozier earns The Arc of Illinois' Direct Service Professional Award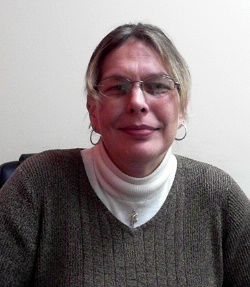 Robin Wrozier, a residential supervisor at Centerstone, will be honored with The Arc of Illinois' Direct Services Professional (DSP) Award for her outstanding, dedicated, direct care service and support to persons with intellectual and developmental disabilities.
Wrozier, of West Frankfort, will be presented with the award during the 73rd annual The Arc of Illinois' Convention, held virtually and in-person in Lisle on Wednesday, April 19.
"Robin is an amazing DSP. Her dedication to the individuals we serve is inspiring," said Erin Kinsey, Centerstone program manager. "Robin sees those she serves as part of her family, and to work alongside someone like that who cares so deeply about what they do is an honor."
Wrozier has worked for Centerstone as a residential supervisor since November 2017.
"I feel that anything I can do to help the individuals I work with succeed is very satisfying," Wrozier said. "I want to make the day better for the individuals I serve. There are so many challenges faced every day for individuals with disabilities and everyone should have the opportunity to live their best life."
Wrozier noted the award is an honor and motivating.
"It fills me with a sense of pride in my work and inspires me to do more," Wrozier said. "Centerstone and the team I work with allow me to give the care I feel our individuals deserve and have the right to receive. I am thankful every day for my position with Centerstone and strive to fulfill our noble purpose of delivering care that changes people's lives."
The theme for this year's convention is "Reimagining Expectations." The convention offers a wide variety of educational and informational workshops that focus on adapting and find new ways to learn, work and engage. For more information about the convention, visit thearcofil.org/73rd-annual-convention/.