Sign up for a free, virtual Residential Treatment: Who is it for? webinar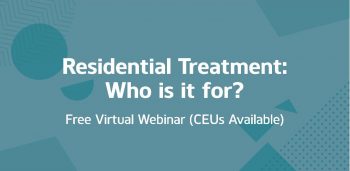 Centerstone will host a free, virtual "Residential Treatment: Who is it for?" webinar on Wednesday, September 28 from 12 – 1 p.m. CT. The webinar will focus on the fundamentals of Residential Treatment. CEUs are available.
This webinar is sponsored by Centerstone's Fellowship House Campus, which provides addiction recovery services to individuals who suffer with substance use disorders (SUDs) and co-occurring problems.
This training has 1 hour of continuing education approved for IL LCPC / LPC, IL LCSW / LSW, and IL Nursing (LPN, RN, APN) under IDFPR Professional Counselor CE License No. 197.000263 and IDFPR Nurse CE Sponsor License No. 236.000184
Objectives of the training include:
Learn the common signs of substance use disorders.
Discuss the foundations of residential treatment.
Discuss common misconceptions about residential treatment.
Learn about addiction recovery aftercare planning.
Go through how to make referrals to a residential treatment program.
The facilitator is Diana Shields, BS, CADC, CODP I. Shields serves as a clinical team lead at Centerstone's Fellowship House Campus in Anna, IL. In her role, she manages our men's residential treatment program. Shields received her bachelor's degree in psychology from Southeast Missouri State University and is a Certified Alcohol and Drug Counselor and a Co-Occurring Disorder Professional. She has worked at the Fellowship House as a substance abuse counselor since 2017 and has over ten years of experience working as a crisis prevention and intervention instructor.
For more information, contact Samuel Stearns, Centerstone's Community Development Representative, at samuel.stearns@centerstone.org.