988 Suicide & Crisis Lifeline: The Basics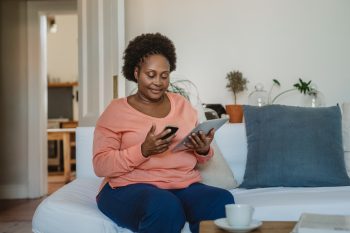 In July 2022, the National Suicide Prevention Lifeline changed its number to 988, and was renamed the Suicide & Crisis Lifeline. This unprecedented 3-digit telephone number began a new era of mental health, suicide prevention, and substance use assistance that makes it more accessible to millions of Americans. Since the introduction of 988, there have been questions about its specific purpose, how it differs from 911, and why it is necessary. Here's what you need to know:
The 988 Suicide & Crisis Lifeline number can be used in times of mental health, suicide, or substance use crises. You can call, text, or chat with a trained counselor 24/7, 365 days a year.
When should I call the 988 Lifeline?
The 988 Lifeline can be called in a variety of situations, and is not just reserved for someone in extreme danger of hurting themselves or others. If you are experiencing problems in a relationship, overwhelming feelings of stress, suicidal thoughts, anxiety, or depression, you can call 988.
Can I call 988 for someone else?
Yes. If you notice concerning or unusual behavior with a friend or loved one, 988 counselors can provide you with assistance and resources to help.
Does 988 automatically dispatch help to the site of the call?
No. 988 Lifeline counselors are highly trained to de-escalate and talk through situations and provide resources to callers. More often than not, all communication between a caller and counselor is done virtually, without the specific need for in-person interaction. However, if the counselor believes there is a need for an in-person response, a mobile crisis team can be dispatched.
What is the difference between 988 and 911?
911 is used for crises regarding medical safety, physical safety, fire, crime, etc. Whereas 988 is used for emotional, mental, and substance use crises. However, if a suicide attempt has already been made, the situation becomes a physical safety issue, and 911 should be called.
911 operates on a quicker timeline than 988. 911 operators are trained to work quickly and efficiently to evaluate the situation and send help immediately. On the other hand, 988 counselors are there to talk, assess the situation, consider all possible outcomes, and determine the risk. If risk exists, they, in conjunction with the caller, will determine the need for a mobile crisis team or first responders.
If you or someone you know is experiencing mental health concerns, Centerstone can help. Call us at 877-HOPE123 (877-467-3123) or visit our crisis services page.
---
---