Answers to common questions about Foster Care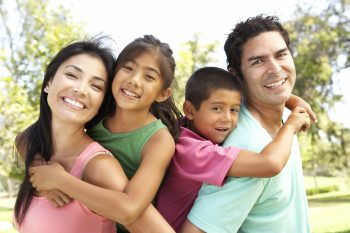 The need for foster families continues to exponentially grow, but if you have never had experience with foster care, you likely will have many questions. There are several common misconceptions about foster care, the children that are in need of a home, what the ideal foster family looks like, and more.
We spoke with our foster care experts to help answer commonly asked questions about fostering kids in need:
How do I know if I should actually foster?
"Fostering is not for the faint of heart – it really is a calling," says Melanie Harwell, a Foster Care Coordinator at Centerstone. "You must be committed to doing the best you can to work with the child. Long-term commitments are best for the children, so foster care should never be approached as something you will just try for a little bit," she added.
It is also beneficial to have a sense of humor. Children in foster care have often faced some degree of trauma and can subsequently engage in difficult behaviors. Foster families must try their best to be mindful of their traumatic experiences and not take it personally. This kind of resilience will make the process as smooth as it can be for both parents and children.
Above all, approach foster care with a mindset that you want to make a real difference in the child's life, because you will be making a real difference.
Would I know anything about the child or children being placed in my home before they get there?
Centerstone's foster care staff work with you so you can make fully informed decisions about a child or children being placed in your home. You will never be forced to care for a child that you feel would not fit into your home environment, as this could be a barrier to both the child's and the parents' happiness. We work with you to understand what you are comfortable with, while also expecting you to work with us to understand there is no such thing as a "perfect child."
What if I'm worried about providing for a child's specific needs?
Centerstone will guide you in fulfilling a foster child's needs. We offer classes to train families in many aspects of foster care: understanding the child welfare system, understanding trauma and how it affects children, CPR and medicine administration, engaging teenagers, emergency preparedness and more. We also provide a robust support system. At group trainings, you can interact with other foster families who understand your experience.
Financially, foster parents do not have to worry about supporting a foster child in addition to their own household. The state they are fostering in provides no-cost health coverage for each child in foster care and families regularly receive a financial stipend so that they can easily meet the child's needs.
Are the horror stories about foster care true?
Most of the "horror stories" (violence, running away, etc.) that are told about foster care have to do with children living in facilities, not foster homes. Even then, these extreme cases are uncommon. The biggest issues generally faced by foster families are difficult behaviors such as disobedience, bad attitude and arguing. While these behaviors may be somewhat more prevalent in foster children due to their life experiences, they are typical of any child and can be managed with proper education and patience.
Does our family have to fit into any mold to be considered for foster care?
"There is no typical foster home. Centerstone works with traditional married families with children, single mothers, elderly adults, LGBTQ+ couples and many others," says Roddy Fernandez, a Foster Care Program Manager. Beyond family structure, you are not limited to only fostering children who look just like you. Every family can foster children from racial and ethnic backgrounds different to theirs. In these cases, Centerstone provides cultural awareness trainings to bridge any potential gaps caused by these differences.
To learn more about Centerstone's foster care program or to hear the experiences of other foster parents, visit the Centerstone Foster Care website or call 1-877-HOPE123 (877-467-3123).
---
---