Creating a peaceful environment in a chaotic world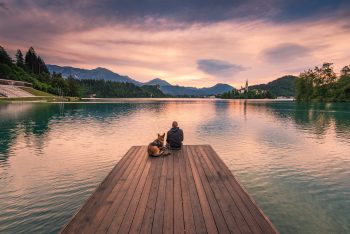 In a world with civil unrest, political disputes, and an endless stream of media, it can be easy for some of us to feel overwhelmed. Maintaining our peace in such a chaotic world can be a challenge, but it is possible and can be done in different ways to best benefit us and our mental health. According to Jayne Tingley, Director of Community Care at Centerstone, inner peace can best be described as balance in all areas of your life, even with the presence of stressors. A large part of achieving and maintaining inner peace is being able to recognize when and where to set boundaries, and to accept the things that we cannot control.
Maintaining peace within our lives can be achieved within ourselves, in our homes, or with another person. One sign that your life may be lacking balance and peace is if your stressors are your primary focus. Luckily, there are several ways that we can check in with ourselves, and reclaim our feelings of peace.
Protect your space. Find a space in your home where you feel safe, and allow yourself to feel your feelings and be calm in this space. Whether you find comfort in a special blanket, scented candle, or song, try to surround yourself with these things while in your safe space.
Confide in your people. If your safe space is a person, you may find comfort in knowing that that person is there to listen without judgement. Connect with your people when you feel you need some extra support with managing life's stressors.
Practice self-care! Self-care looks different for all of us, but it's important to remember that it does not have to be extreme. "Make sure that every single day you have some time carved out solely focused on meeting your needs," says Tingley. "Our needs can vary from one day to another, but making sure you have that time is important." Catching up on your favorite show, treating yourself to your favorite food, or even doing a puzzle are all examples of self-care. Our needs can be met in different ways that work best for us.
Take time for you. Whether you take a hike, journal, meditate, or listen to your favorite podcast, finding pockets of peace throughout the day is key.
Another important component of protecting our inner peace is setting boundaries. Learn to say no firmly, but kindly. Know that it's okay to step away from situations and people that interrupt your peace, and that you don't need justification to do so. If watching or reading the news is a stressor for you, consider changing the channel or reading a book instead. If you had a tough day at work, try to leave those feelings at the door by taking a few deep breaths, and enter your home with good intentions. If you are feeling overwhelmed with different aspects of life, consider taking a walk or calling a friend. Do whatever works best for you in that moment, but try to avoid excessive consumption of substances and screen time.
Practicing self-care and protecting our peace in a chaotic world is crucial. Giving in to certain stressors can be hard to avoid, and can cause feelings of uneasiness and anxiety; however, protecting your peace is possible. If you or someone you know struggles with finding a peaceful balance, Centerstone can help. Visit our counseling services page, or give us a call at 877-HOPE123 (1-877-467-3123).
---
---