Military Service Members Stay Strong with Centerstone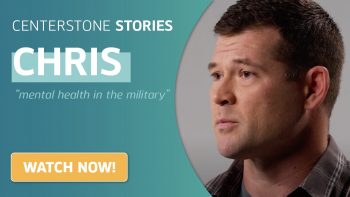 Air National Guardsman Chris struggled to find mental health support and overcome the systemic stigma surrounding mental health challenges that many men and women experience during their military service.
"I've been trying to find mental health care for about five years," Chris said. "It's not an easy thing to do. The stigma around the mental health challenges that we have in the military, it's systemic. It's been around for a long time. If you say the wrong thing to the wrong person in a job with a clearance, it's likely to affect your career."
Chris reached out to his chaplain who suggested he contact Centerstone. Chris appreciated the way that Centerstone staff could relate to his military experiences and hold a compassionate space for him and so many others who face similar challenges.
"We're all on this roller coaster of life with ups and downs and it helps a lot when we have somebody to talk to. Thankfully there's places like Centerstone that have been proactive about [erasing the stigma for military personnel]. It's been a lifesaver. It really has."
If you are a veteran, active duty military, or military family member and are experiencing mental health concerns, you're not alone. You can stay strong by following a few suggestions:
Reach out to veterans or veterans' groups. This is a good way to get support from those who can relate to your experiences.
Talk to family and friends. While they may not fully understand what you're going through, it may help them understand why it may be difficult for you to engage at times.
Prepare ahead of time for insensitive questions or tough conversations. Practice how to respond or respectfully decline to answer.
Take care of your physical health as well as your mental health. Get regular exercise and visit your doctor as needed.
Connect with a mental health professional. If you feel that you're becoming more frustrated or isolated, reach out to a mental health provider who can talk with you and offer effective ways to manage your specific situation.
"It's really challenging to live with what we carry, and we all carry something," Chris said. "And there are people that love you. There are people that care for you, so don't quit."
Centerstone's Military Services is committed to caring for veterans, active duty military personnel, and military family members through a wide-range of culturally-competent mental health services. We are here, connecting with you wherever you are. Call 1-877-HOPE123 or visit our military services for more information.
---
---