Physicians Spotlight – Dr. John Kirk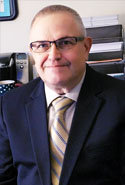 PHYSICIAN SPOTLIGHT
John Kirk, DO
Dr. John Kirk is a psychiatrist at Centerstone in Fayetteville, Tennessee. He practices adult as well as child and adolescent psychiatry using individual therapy, family therapy and psychopharmacologic treatment. After attending Kemper Military Junior College, Westminster College and Kirksville College of Osteopathic Medicine, Dr. Kirk completed his post-graduate training at Tripler Army Medical Center. During active duty with the United States Army, he held positions ranging from Chief of Psychiatry Service to Hospital Commander before retiring with the rank of Colonel. Dr. Kirk has worked with Centerstone since 2005.
Why did you choose to work at Centerstone?
Several individuals I met and talked with said they were very happy working at Centerstone. I found that when I began working here the staff (nursing, physician, nurse practitioner, therapist, case managers and administrative) were excellent individuals who strive to provide the highest quality of care to patients. The administrative staff always strive to provide the best support to Centerstone personnel as well as the patients.
Recently, what is the most significant advancement you've seen in mental health care?
The use of pharmacogenomic testing in psychiatry. It will help clinicians make more informed decision in regards to the use of psychopharmacologic agents.
What future advances in delivery of care excite you?
I think that advances in neuroimaging will improve the care provided to patients.
Tell us about your family.
My father was a junior high school principal and received his doctorate in education. My mother was a speech therapist. I have an older brother and a younger sister. My parents were very positive about providing educational opportunities.
What do you do in your spare time?
I enjoy reading—my favorite author is Clive Cussler. I also enjoy playing bridge, going to Broadway productions, going to car shows and antique shopping.
What is something people don't know about you?
That I enjoy classical music and Broadway shows.
What made you interested in psychiatry?
When I was at Kirksville College of Osteopathic Medicine I enjoyed the psychiatry lectures a great deal. I went to Tripler Army Medical Center as a medical student where I thoroughly enjoyed my psychiatry training. Establishing the therapeutic relationship with the patient is an important element of psychiatry for me.
What do you think you would have done if you had not chosen this line of work?
I would have most likely pursued a career in the educational field, most likely in mathematics.
What has your favorite moment in your career been so far?
There have been several favorite moments in my career. They include graduating from Kirksville College of Osteopathic Medicine, graduating from my child and adolescent psychiatry fellowship, obtaining board certification, being promoted to Colonel and being a Hospital Commander.
What is a piece of advice that you have found useful over the years?
Do the best that you can in everything that you pursue.
Describe an ideal day off?
I would like to drive around in my Cabriolet with my friends, top down on a sunny day going to various car shows and antique auctions.
What is on your bucket list?
I would like to go to Scotland to ride on the Royal Scotsman Train, visit the Mercedes factories in Germany and to obtain a MB 280 SE Cabriolet.
###
---
---