Recovering from Online Infidelity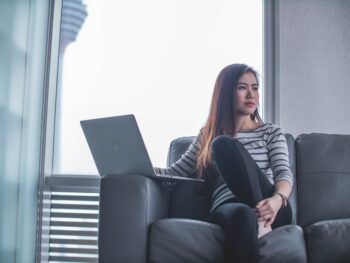 Online infidelity is an affair through a digital platform or method, whether text, email, social media or anything else. This cyber-affair could be solely emotional, or they may exchange sensual messages which can simulate a physical affair. For the cheating partner, it is a way of fulfilling some emotional, social or physical need outside of their own relationship, and it almost always results in emotional distress.
It can be difficult to weigh the seriousness of online infidelity against that of a physical affair. While the unfaithful partner was not physically intimate with anyone outside of the relationship, words were exchanged and trust was betrayed. It might seem like a smaller problem that's easier to get away from, but recovering from online infidelity is not actually as simple as turning your phone off.
According to Tracey Lickfelt, Vice President of Outpatient and Engagement Services Services for Centerstone, online infidelity could, in fact, be potentially worse than a physical affair. "There is a certain lack of responsibility that the cheating partner may take for this type of affair. They most likely had no direct contact with the external party, so they don't have a tangible way to understand the weight of it."
Before you approach them about what you believe they are doing, try to give yourself space to collect all your thoughts and feelings. Emotions of shock, anger and grief are common reactions to learning of a partner's infidelity. Try to rehearse in your mind how you will approach the situation and what language you will use—it is best to use inquisitive language rather than accusatory. It is important to have proof of some sort before approaching your partner. "When unverified claims prove false, it is taken as an accusation and hurts; however, if claims without evidence are true, they can be denied or the cheating partner may return with other accusations," says Lickfelt.
Like with physical infidelity, as long as both parties want to work through this problem together, the relationship is never too far gone. Here are some things that each partner can do to help:
For the unfaithful partner:
Take responsibility. You must tell yourself, no matter how mild you feel it is, that it is an affair. Acknowledge that you betrayed your partner's trust, and validate their feelings.
Make sacrifices. As your partner might not have a lot of trust for you, be mindful of that and allow them to have access to your social media platforms. Allow your partner to ask questions to hold you accountable and to help ease any insecurities they might have toward your relationship with social media.
Give your partner space. Give your partner the time they need to accept what happened, to heal and process their feelings. You can't force them to forgive or trust you immediately. It will take time to rebuild what you had.
For the hurt partner:
Be honest. Tell your partner how their actions have made you feel. Try to avoid accusatory statements and stick to communicating your reactions and feelings.
Be open to forgiveness. If you have collaboratively established the end goal of restoring the relationship, be open to forgiving. As you need time to process, you don't need to forgive immediately, but it might be fruitless if you have no intention of forgiving your partner.
Hear their side. Listen to your partner's story and assess if they have unmet needs or are feeling unfulfilled in some way. "Remember: the affair is not your fault, but hearing their perspective might help you understand how to move forward," says Lickfelt.
Relationships take work, but you can begin to heal. Remember who you are to each other, and work as a team.
If you and your partner are struggling to move forward, Centerstone can help. Call 1-877-HOPE123 (877-467-3123) for more information about our counseling services.
---
---