Tackling Depression by Pulling Up a Chair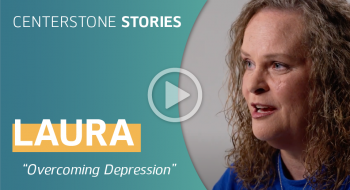 Laura's story is one that comes full circle. A Peer Recovery Specialist at Centerstone, Laura was first introduced to us as a client when her therapist suggested psychosocial recovery and peer support for her depression.
"My therapist suggested I go to a program where there were other people who were going through the same things that I was going through. By the time I got to Centerstone, I was not associating with other people at all. I wouldn't talk. I wouldn't go to any groups. I just came and sat."
Through Centerstone programs, Laura learned how to identify and better manage her symptoms. "I know what it's like to sit in those chairs. I know what it's like to feel confused. I know what it feels like to be so deep in depression that you can't see out at all."
Depression affects millions of people each year, but it is manageable with the right treatment. If you are experiencing depressive symptoms, try adopting some of the following habits which may bring you some relief:
Take good care of your physical health. Eat right, exercise at least 30 minutes every day, and get enough sleep. The Centers for Disease Control and Prevention (CDC) recommends seven hours or more each night.
Take a closer look at your thoughts through journaling. Write down recurring negative thoughts which can be distortions that feel real and often perpetuate unhelpful behaviors. Journaling can help you see the distortions a bit more clearly.
Identify unhelpful behaviors and replace them with healthy behaviors. Avoid making big decisions when in emotional distress. Engage in activities that bring you joy — even small things can make a big difference.
Seek professional help. If you are experiencing significant symptoms or having trouble with activities of daily living, it may be time to talk with a professional who can help you.
As Laura shared, "Centerstone can help you find that part of your life that's missing."
If you or someone you know is having challenges with depression, Centerstone can help. We are here, connecting with you wherever you are. Call 1-877-HOPE123 or visit our counseling page for more information.
---
---