Take These 3 Relationship Goals to Heart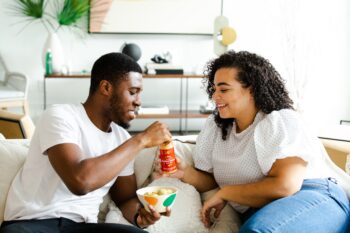 As Valentine's Day nears, the internet buzzes with playfully captioned pictures (or "memes") inspiring us toward "Relationship Goals." But beyond those fun photos of mature couples who still push each other in shopping carts or wear matching Star Wars t-shirts, there must lie deeper efforts to uphold long term commitments.
Marriage and family therapists at Centerstone suggest these goal-worthy relationship-building practices.
Love Intentionally. This means always acting in loving ways—even when you don't feel like it. Try speaking softer when you want to shout; seek ways to serve your mate when you'd rather ignore them; offer a compliment in a moment when an insult would come more naturally. Don't keep score—all points go to the relationship. Couples who figure out how to do these things consistently will create a stronger sense of stability and trust. Remember that love is a verb, so by definition, it demands action.
Validate Feelings. It's important for partners to express emotions in assertive yet non-aggressive ways that demonstrate a real desire to hear and understand one another. Adjusting our language from overly accusatory ("You never/always…") to personally clarifying ("I feel…") is a good game changer. Here's another wise move: ask your partner how they feel if you don't understand. Simply acknowledging how your partner feels can turn a conversation's tide from destructive to productive.
Embrace Differences. Remember no two people are emotionally wired the same way, and that's okay. They may prefer compartmentalization, not letting one relationship issue cross circuits with another. They may let one argument send shock waves through everything. Different strokes for different folks. Instead of letting natural disparities zap momentum, see the merits of both personalities, then determine together when a situation calls for letting go or holding out. Nobody wants a flag called on every play! Our differences often make us stronger and can lead to increased mutual admiration.
Yes, love is grand and worthy of all the online declarations, boxes of chocolates, and bouquets of flowers in the world. Just don't forget the daily upkeep that needs to happen behind the scenes. When we love intentionally, validate each other's feelings and embrace our differences, it could mean the difference between a relationship that's on the rocks and a relationship that truly rocks. Take these goals to heart.
Ken Stewart is a Licensed Senior Psychological Examiner and Regional Vice President at Centerstone.
If you feel that you need extra help managing your relationship, Centerstone is just a phone call away. Call us at 1-877-HOPE123 (877-467-3123) or visit centerstoneconnect.org to get connected with care.
---
---