The stresses of military life on marriages and families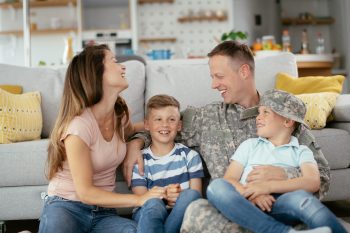 Many of us take life for granted in this land of the free and home of the brave. Celebrating holidays and birthdays, putting down roots and watching them grow, family gatherings and lasting friendships, setting personal and career goals with a direct path for happiness and prosperity.
But for the population of heroes among us, the military families who work overtime to keep us safe and free, unpredictability and breaks in routine isn't an occasional disruption in the lives of veterans, service members, spouses, children and families – it's a way of life.  And when catastrophes like COVID-19 strike, it's yet another layer of turmoil heaped on top of the stack of stresses they already deal with, each and every day.
Centerstone's Military Services Director, Anna Goletz is one of the nation's leaders in mental health and wellness for military families. As a military spouse, she knows well the unique mental health issues that military families face and uses this experience to help other military families in need.
"We get many calls about military related issues such as the stresses of moves, changing schools, deployment, how to help a service member with their PTSD, how it is affecting their relationships or about depression and anxiety," says Goletz. "Whatever the mental health issue is, it affects the entire family."
Long-term mental health injuries
The stresses of military life can produce disruptions in marriages and families. Military life results in uncertainty and breaks in routine, which can cause family members to experience high anxiety, depression, PTSD and long-term mental health and wellness injuries. Many spouses feel it will hurt their military partner's chances of promotion if they would seek help for stress or depression.
Separation, brokenness and uncertainty
Deployed service members are physically separated from their nuclear family. Often, depending on the job they do, they do not have access to the internet to communicate with their spouses, children, parents and friends. Relocation is often a part of the active duty military life for a family and it is very disruptive with changing school systems, making new friends for military children, and traveling distances to cities and jobs. Further, finding extracurricular activities, a new place of worship, and other similar activities can strain any family.
Spouses and broken career paths
Military spouses often deal with the inability to continue or finish their education which can lead to broken career paths and a particularly hard time moving up the career ladder. Constant moves and lack of support can be debilitating.
"For military spouses such as myself, moving each time there is a Permanent Change of Station can wreak havoc on career longevity and a resume. Military spouses work diligently to find positions that are remote and transfer friendly, which is not always conducive to working and raising a family in a new city," says Goletz.
For example, in some states licensed professionals like doctors, nurses, teachers and therapists have to submit an application for licensure for each state and go through many hoops to work in that new state. If another state requires more classes, then those military spouses have to take them. Clinicians and other licensed professionals must also know all the regulations in their location, reapply for licenses and hope to qualify, which can create more challenges for their careers.
Fortunately, this trend is changing for the better with more work from home positions, military and civilian resources, and support groups for military spouses in similar career fields online.
Centerstone's Military Services is here to help
The good news is that military families do not have to go through these stresses alone. Centerstone's Military Services offers services nationwide for active duty military members, veterans, spouses and their families. Support services provide counseling, therapeutic retreats, couples and family counseling, online support groups, classes and workshops. Services are available regardless of the era served or discharge status.
If you or someone you know is struggling with mental health after deployment, Centerstone can help. Call 1-877-HOPE123 (1-877-467-3123) for more information about our military services.
---
---