A Magical Night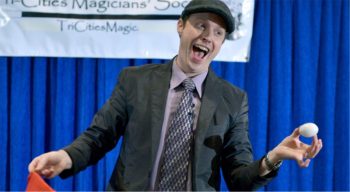 Our littlest heroes were front and center in a magical way at the Steven A. Cohen Military Family Clinic at Centerstone this month.
In honor of the Month of the Military Child, Blue Star Families and Wounded Warrior Project (WWP) teamed up with the clinic to make sure our military children had a night to remember thanks to magician, Nick Smith.
"We wanted to do something special and unique to honor the resiliency of our military kids," Outreach Director Meghan Williams said. "Our friends at Blue Star Families and WWP graciously agreed to join us and the result was magical. Mr. Smith put on a tremendous show which had children and grown-ups alike smiling in awe."
The community room event welcomed more than 30 happy faces to the clinic for two opportunities to see the show and have dinner.
"It was an outstanding evening," Williams said. "Minds were blown, I can attest to that for sure. It certainly has our wheels turning on how to celebrate next year."
The Cohen Clinic at Centerstone frequently hosts various enrichment activities in an effort to encourage connection and strengthen bonds. In fact, coming up next month the team will welcome the Travis Manion Foundation for an evening dedicated to identifying character strengths. The workshop will give parents and children an opportunity to learn how best to communicate based on their individual strengths. Also in June, bestselling author CG Cooper will be on hand to share his expertise with aspiring writers in a writing workshop.
"We want our military families to know they are never alone," Williams said. "We want to be a safe and comfortable place for them to come, maybe learn something new or just find connection. It's a big reason our Annual Art Show has become what it has. It was during a community room art class we recognized the value of these types of events and why we now host a show each year dedicated to creativity and the healing power of the arts." For more information on community room offerings follow the clinic on Facebook at https://www.facebook.com/CohenCenterstoneTN . For more on the 4th Annual Cohen and Centerstone Community Art Show, including how to submit artwork for the show check out the show's website at https://www.cohenartshow.com/