A Year in Review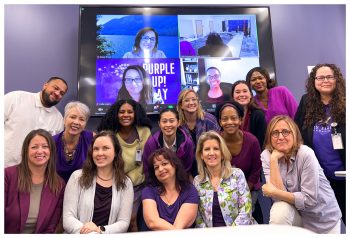 By Jodie Bielman, Clinic Director
Steven A. Cohen Military Family Clinic at Centerstone, Jacksonville
It is hard to believe it has already been an entire year since the day I walked through the double doors of our clinic. When I sat down to write this I got a rare chance to reflect on all of the amazing things that our incredible team has accomplished. Our clinic has touched the lives of thousands of active duty service members, guardsmen, reservists, veterans and their families. Our team has stepped up again and again to serve our military community and we have grown as a result. We were finally able to hold our Community Celebration on June 30, 2022. After opening the week prior to the pandemic, the chance to have leadership from both CVN and Centerstone, along with local politicians and Medal of Honor recipient Kyle White in our clinic boosted momentum and morale while strengthening our ties in the community.
Our two intake coordinators became independently licensed and moved into full time clinician roles and we brought on two new intake coordinators and two clinical interns all of whom are veterans. We also brought on a new full time office coordinator whose parent served and another licensed clinician who is an active duty spouse.  With the onboarding of our new outreach director in late November we saw an increase in community room events and community engagement.  These additions have brought a new synergy of shared experiences and have served to foster a supportive community within our clinic.
Finally, getting back to being fully staffed and 100% back in-clinic meant better overall access to care for our clients, a better employee culture and a standing commitment to the client-first mentality from first call to discharge. We have re-committed to meeting foundational benchmarks and are focused on exceeding expectations in the year to come while we grow to meet the need in our community.
On a personal note, this past year has been one of the most challenging but rewarding years of my professional career.  We have seen a national shortage of clinicians coming into the field and a behavioral health need like we've never seen before. Despite all of that, our team has been able to work together to increase our capacity to serve by building trusting relationships with our clients and community. Being able to work alongside so many talented and truly inspirational individuals while supporting the military community has been one of my greatest honors. I look forward to what the future holds for our clinic; the growth, but more importantly the lives that will be changed. To anyone out there that wonders if there is help out there, please reach out… We are just a phone call away.