Celebrating Military Kids with the U.S. Army Golden Knights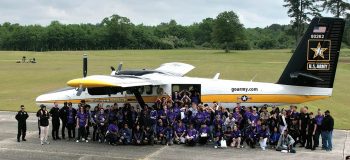 The Steven A. Cohen Military Family Clinic at Centerstone in Fayetteville celebrated Month of the Military Child in partnership with The U.S. Army Parachute Team, "The Golden Knights," by hosting a full-day event for more than 100 high school students from Cumberland, Harnett, and Scotland counties to learn about the importance of mental health and resiliency.
"We know that when a military member serves, the entire family serves, including military children," Jennifer Smith, Clinic Director at The Steven A. Cohen Military Family Clinic at Centerstone, Fayetteville said. "This event with The Golden Knights was a great opportunity to celebrate military kids in our community and remind them that we are here to support them through all of the ups and downs of military life."
Students at the event were treated to demonstrations on what it's like to be a Golden Knight, including a tandem safety briefing, learning how the parachutes worked and how to properly pack a parachute, and the training each member of the parachute team goes through.
The students also got to sit inside the airplanes The Golden Knights use and see other demonstrations from the Explosive Ordnance Disposal unit and the Scotland County Sheriff's Department K-9 unit.
Miss North Carolina Karolyn Martin, who is a military child, attended as a special guest.
"It was an honor to celebrate my fellow military children during Month of the Military Child," Martin said. "It was such a fun day and I was happy to play a small part in it. I hope the students left feeling celebrated and knowing that their flexibility and tenacity will take them far in life!"