Every day veterans and their families struggle with the mental and physical scars uniquely earned through military service. The Steven A. Cohen Military Family Clinic at Centerstone was created to support this selfless population by ensuring they receive the care they deserve at little to no cost.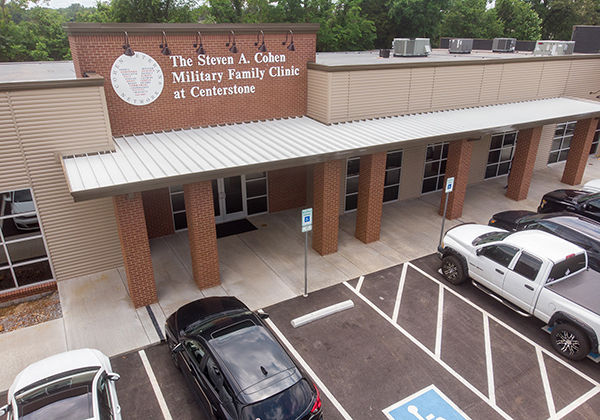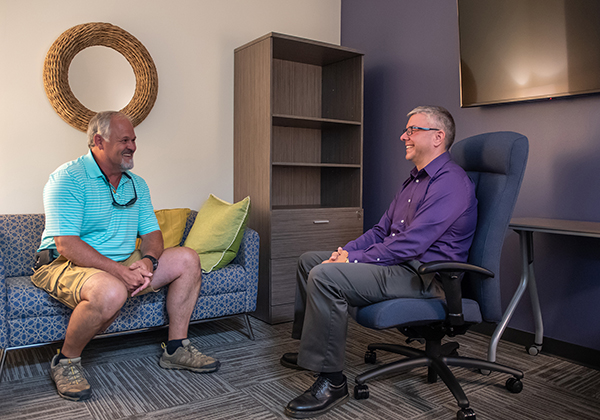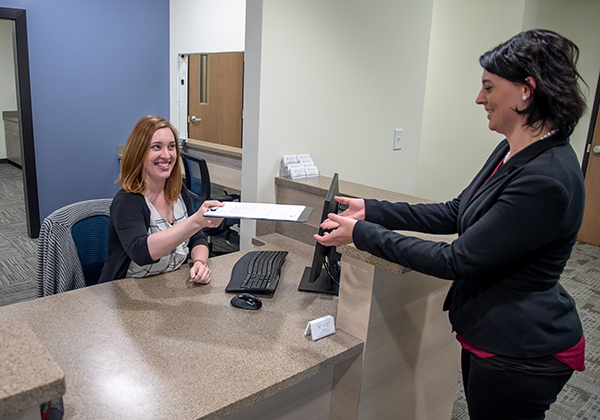 Previous
Next
Who We Are
In 2016, philanthropist Steven A. Cohen recognized the need for high quality, accessible mental health care for our nation's service men and women and their loved ones. In that year, he made a long-term commitment to provide that care by establishing the Cohen Veterans Network; a national network of Steven A. Cohen Military Family Clinics dedicated to ensuring veterans and their families receive the support they need to lead fulfilling and productive lives.
In 2017, the Cohen Veterans Network partnered with Centerstone, one of the nation's leading behavioral health providers, to establish the 10th Steven A. Cohen Military Family Clinic across the country in Clarksville, TN. For more than 60 years Centerstone has been delivering care that changes people's lives by providing comprehensive, integrated behavioral health services for all ages. Now, by joining forces, Centerstone and the Cohen Veterans Network are on a mission to provide middle Tennessee's large veteran and family member population with compassionate and effective care to help heal the invisible wounds of war.
Who We Serve
The Steven A. Cohen Military Family Clinic at Centerstone provides confidential, compassionate, personalized mental health services at little to no cost for any post-9/11 veteran who has served in the United States Armed Forces and their family members. Additionally, the Cohen Clinic at Centerstone recognizes that our nation's heroes are in need of our support, therefore strives to provide veterans of all eras with the care they deserve.
Veterans
Any person who has served in the United States Armed forces, including National Guard and Reserves, regardless of discharge status, role while in uniform, combat experience, ability to pay or insurance type.
Family
Any identified Veteran or Active Duty family member including spouses or partners, children, adolescents, parents, siblings, caregivers and others.
Our Services
Services are provided by culturally competent professionals trained to work specifically with veterans and their families. Veterans and their family members are able to receive services individually and as a family unit with the same treatment team.
The Cohen Clinic provides the following services:
Counseling for individuals, groups, couples, children, and families
Psychiatric evaluation, treatment, and medication management
Parent consultation
Case management and resource connection
Life skills and wellness groups
Telehealth services that allow access to therapy from home or work
Transportation to and from appointments
What We Do
The highly skilled clinicians at the Cohen Clinic treat a variety of behavioral health challenges, including:
Depression
Stress
Post-traumatic stress
Substance misuse
Sleep problems
Anxiety disorders
Anger
Grief and loss
Transitional challenges
Relationship and family difficulties
Treatments
Brief evidence-based therapies include:
Cognitive Behavioral Therapy (CBT)
Cognitive Behavioral Therapy for Insomnia (CBT-I)
Cognitive Processing Therapy (CPT)
Prolonged Exposure Therapy (PE)
Eye Movement Desensitization and Reprocessing (EMDR)
Meet Our Team
Our Cohen Clinic at Centerstone team is led by experienced, culturally competent professionals who are trained to work specifically with veterans and their family members.
King Counts, D.Min, LMFT – Therapist
Dr. King Counts is a licensed marriage and family therapist and ordained minister who believes in treating the whole person: mind, body and spirit. He holds undergraduate degrees in Bible and Christian Education, master's degrees in Divinity, Arts in Family Therapy and a doctorate in Ministry in Counseling. Dr. Counts has worked extensively with veterans for many years, specializing in stress related disorders such as PTSD, sexual abuse, anxiety, trauma, depression, anger and life adjustment issues. He has wide-ranging experience in treating marriage, family and relational issues; is very skilled in providing telehealth services and is EMDR certified.
---
Don McCasland, LCSW – Therapist
Don McCasland is a retired Army Sergeant First Class, Desert Shield/Desert Storm and Operation Iraqi Freedom Veteran and PTSD survivor that brings experience and insight to his clients. He is a Licensed Clinical Social Worker, Certified Clinical Trauma Professional and holds bachelors and masters of Social Work degrees. Don has served as a consultant to numerous local and national organizations seeking to understand the challenges facing veterans and their families. He has extensive experience and training in the field of trauma with a focus on combat and military sexual assault-related trauma. Don believes in the importance of the mind/body/soul/spirit connection in making the journey toward healing.
---
Leahanna McDonald, MSW, LCSW – Therapist
Leahanna McDonald is a Licensed Clinical Social Worker married to a disabled Veteran who became the inspiration behind her desire to serve Veterans and their Families. She holds a Bachelor's of Science in Sociology and a master's degree in Social Work. Leahanna specializes in high risk children and families, and has worked with children from infancy through young adulthood in countless capacities helping them through trauma, adjustment disorders, depressive disorders, anxiety disorders and disruptive disorders.
---
Elizabeth M. Sherr, MA, LPC-MHSP, NCC – Therapist
Elizabeth Sherr is a retired Operation Iraqi Freedom Veteran who served as both a Non-Commissioned Officer and Commissioned Officer for 20 years. She is also a licensed Professional Counselor who a holds an undergraduate degree is in Psychology and Sociology, and master's degrees in Arts in Diplomacy and Arts in Counseling. After seeing the increased need for mental health professionals, she knew this was where she needed to be and could continue to serve. Her areas of focus are Military Sexual Trauma, Post-Traumatic Stress, combat traumas, non-combat traumas and Internal Family Systems. In addition to individual therapy, she also facilitates both psychodynamic, skills and support groups.
---
Joanne McCasland, MSW, LMSW – Case Manager
Joanne McCasland is a Licensed Master Social Worker. She holds an undergraduate degree in Psychology, and bachelor's and master's degrees in Social Work. Joanne is an Army spouse who is familiar with the stressors that can affect military families. She has worked in Mobile Crisis and Care Teams gaining extensive experience in providing counseling to individuals with a history of trauma, adjustment disorders, depressive disorders, anxiety disorders, disruptive disorders, ADHD and Autism Spectrum Disorder.
---
Lisa Eggebeen, MSSW, LCSW – Clinic Director
Lisa Eggebeen is a Licensed Clinical Social Worker with 12 years of behavioral health experience, 10 of which have been with Centerstone of Tennessee. She holds a bachelor's degree in Psychology, a master's in the Science of Social Work, and frequently conducts speaking engagements locally and nationally on an array of mental and behavioral health topics. Her professional experience has included both clinical and management responsibilities. Her clinical concentration includes assessment and diagnosis, trauma and traumatic grief and loss, individual and family therapy with children and adults, crisis response, suicide prevention, critical incident stress management and mental health disaster response. Administratively, Lisa currently oversees the day-to-day clinical operations for the Steven A. Cohen Military Family Clinic at Centerstone.
---
Lindsey Chantler – Office Manager
Office Manager Lindsey Chantler grew up in Clarksville and is no stranger to the community or the area's large Veteran population. As a Montgomery County Veteran's Service Office (VSO) representative for nearly 10 years, Lindsey supported our service men and women in various capacities. She later joined the Montgomery County Juvenile Court, where her work was instrumental in the creation of the Montgomery County Veterans Treatment Court. Today, Lindsey continues to stay connected to the local veteran community and is currently serving as Treasurer for the Montgomery County Veterans Coalition.
---
Anna Batson – Receptionist
Receptionist Anna Batson was born and raised in Clarksville and believes the Steven A. Cohen Military Family Clinic at Centerstone will be an incredible asset for area Veterans and their Families. Anna is currently pursuing her bachelor's degree in Professional Studies and has previously worked for The Montgomery County Veterans Treatment Court. It was her own personal experience with a member of her family serving in the U.S. Army that led her to working with veteran oriented military service organizations.
---
Aaron Goletz – Data Manager
Aaron Goletz holds a bachelor's degree in Social Science and is working towards his master's in Data Science. He is an Army veteran with two Operation Iraqi Freedom deployments who now serves in the National Guard. Aaron has worked as a Case Manager and Counselor for Centerstone and as a researcher for various grant funded Veteran programs. Ever since transitioning back into civilian life he knew he wanted to help other veterans do the same and learned his skills are best utilized in the structured operation of data collection and analysis. Today, as the Cohen Clinic at Centerstone's Data Manager, Aaron continues to serve the veteran and family population from behind the scenes by supporting the front lines of mental health care.
---
Meghan Williams – Outreach Manager
Meghan Williams holds a bachelor's degree in journalism and a certificate in public health. As a television news anchor, reporter, producer and print journalist Meghan covered numerous stories involving our nation's veterans igniting her desire to support our military service men and women in all capacities. She chose to use her passion for compelling story telling to encourage healthy lifestyles, and worked as special staff to the Fort Campbell Senior Commander developing, planning, promoting and implementing wellness initiatives across the installation. As the Cohen Clinic Outreach Manager, Meghan draws on her public relations experience and personal connection to the military culture to expand the clinic's reach, and encourage help seeking behavior through community awareness and stakeholder collaboration.
---
Scott Hudson – Communications Specialist
Scott Hudson has an established background in marketing and design. He has 18 years of professional experience in creative design, advertising and marketing, software development and project management. He's known for being imaginative and innovative, and embracing new ways of doing things. Prior to joining the Cohen Clinic at Centerstone team, Scott worked as a creative and digital marketing consultant in Nashville, led software teams as an instructional design project manager, and spent a number of years as a creative team leader at multiple advertising agencies. His extensive client list includes NASA, the Discovery Channel, BP, Chevron and Air Canada.
The Cohen Clinic hosts regular programming for veterans and their family members. For more information and to sign up, contact Outreach Manager Meghan Williams at meghan.williams@centerstone.org
---
Programs
Blog
Cohen Military Family Clinic
December 18, 2018
Donald McCasland, LCSW-CCTP is one of CVN's committed therapists at the Steven A. Cohen Military Family Clinic at Centerstone, in Clarksville, TN. As a veteran himself, Don uses his experiences during his 21 years in the service to better assist veterans and their family members by giving them the same quality care that saved his life. He is a big advocate of self-care and sees the importance of unplugging in nature, spending time with family, and engaging in other hobbies to de-stress and live a balanced lifestyle. ...
Contact Us
Email Us
Sign up for our newsletter