Every day, our nation's heroes struggle with the mental and physical scars uniquely earned through military service. The Steven A. Cohen Military Family Clinic at Centerstone is a nonprofit philanthropic organization dedicated to supporting this selfless population by offering accessible, high-quality mental healthcare services. We have walk-in clinics in
Clarksville, Tennessee
,
Jacksonville, Florida
, and
Fayetteville, North Carolina
and also offer
telehealth
, face-to-face video therapy to reduce barriers to treatment.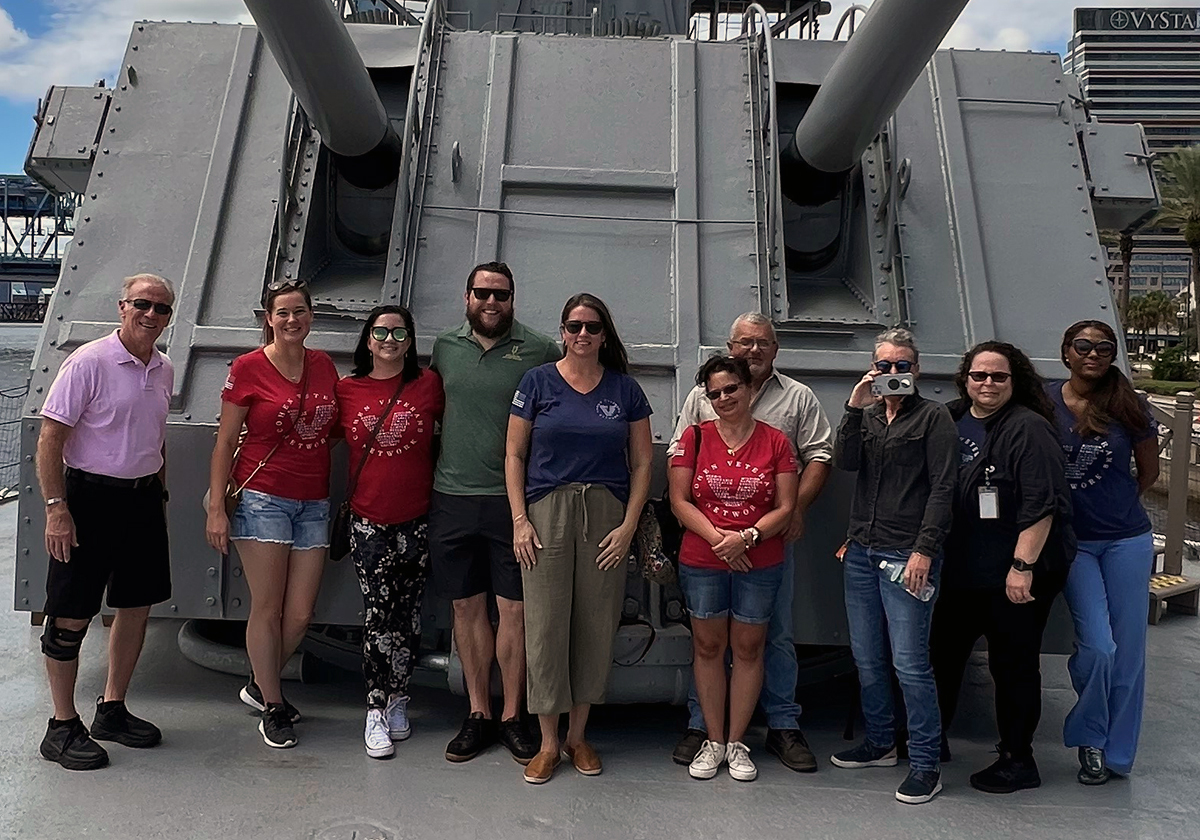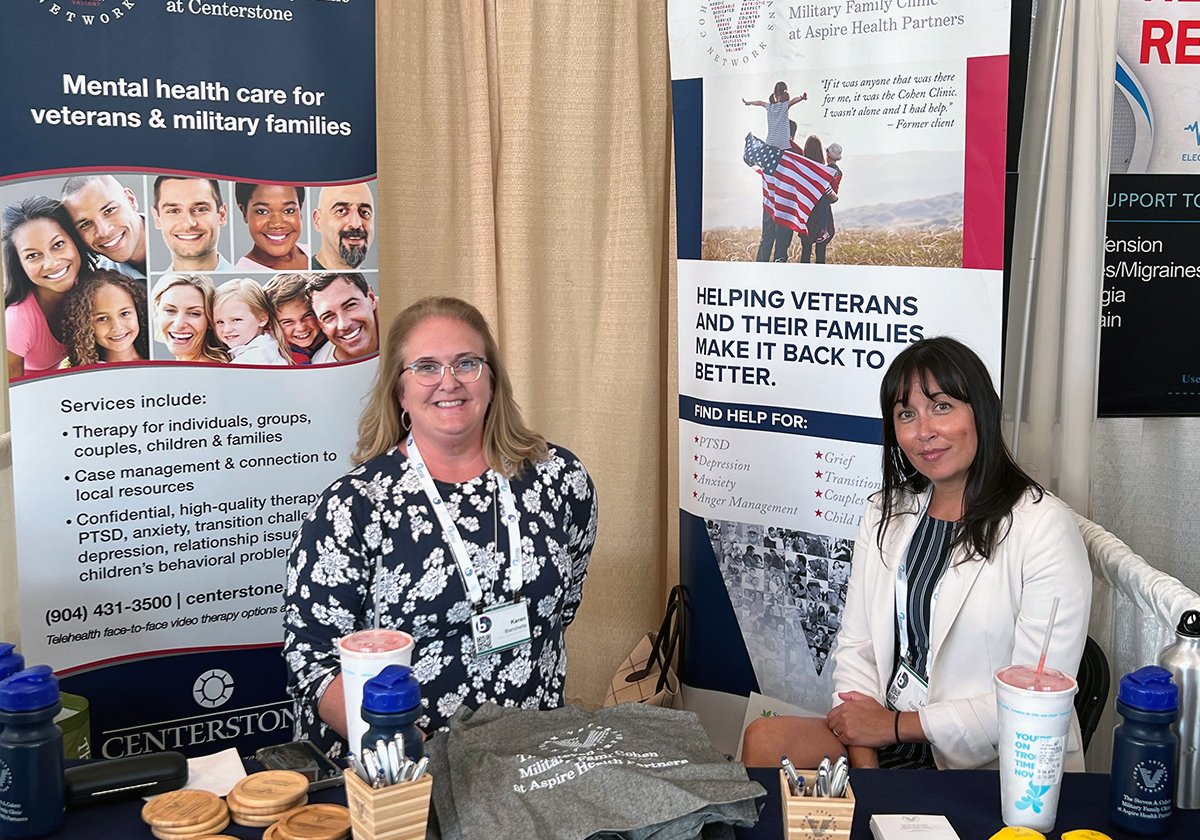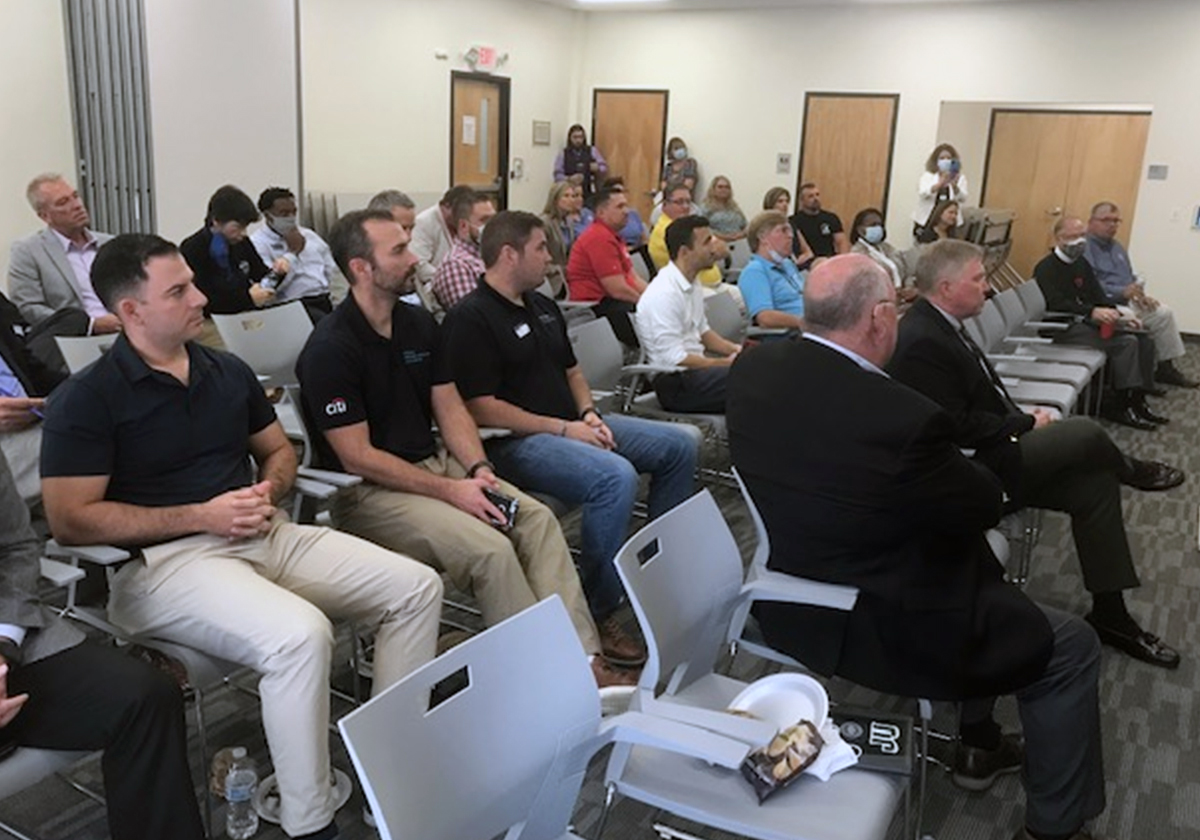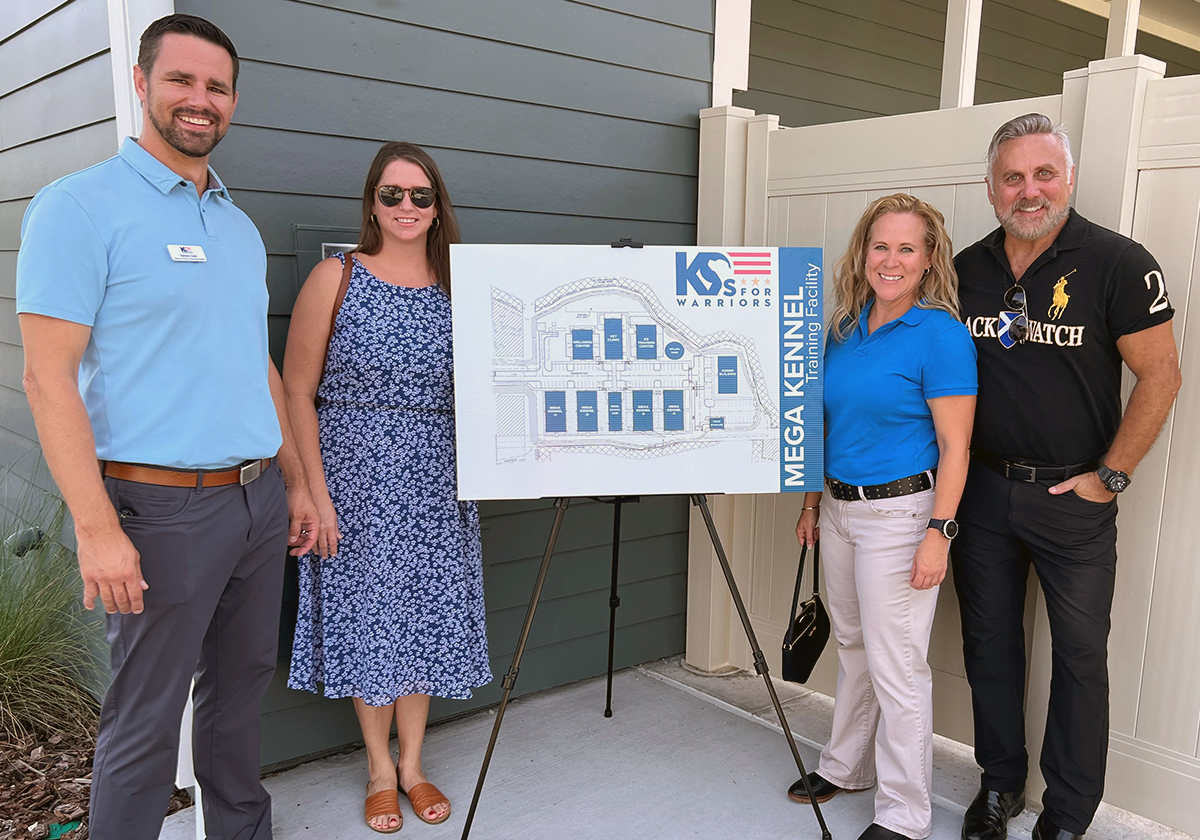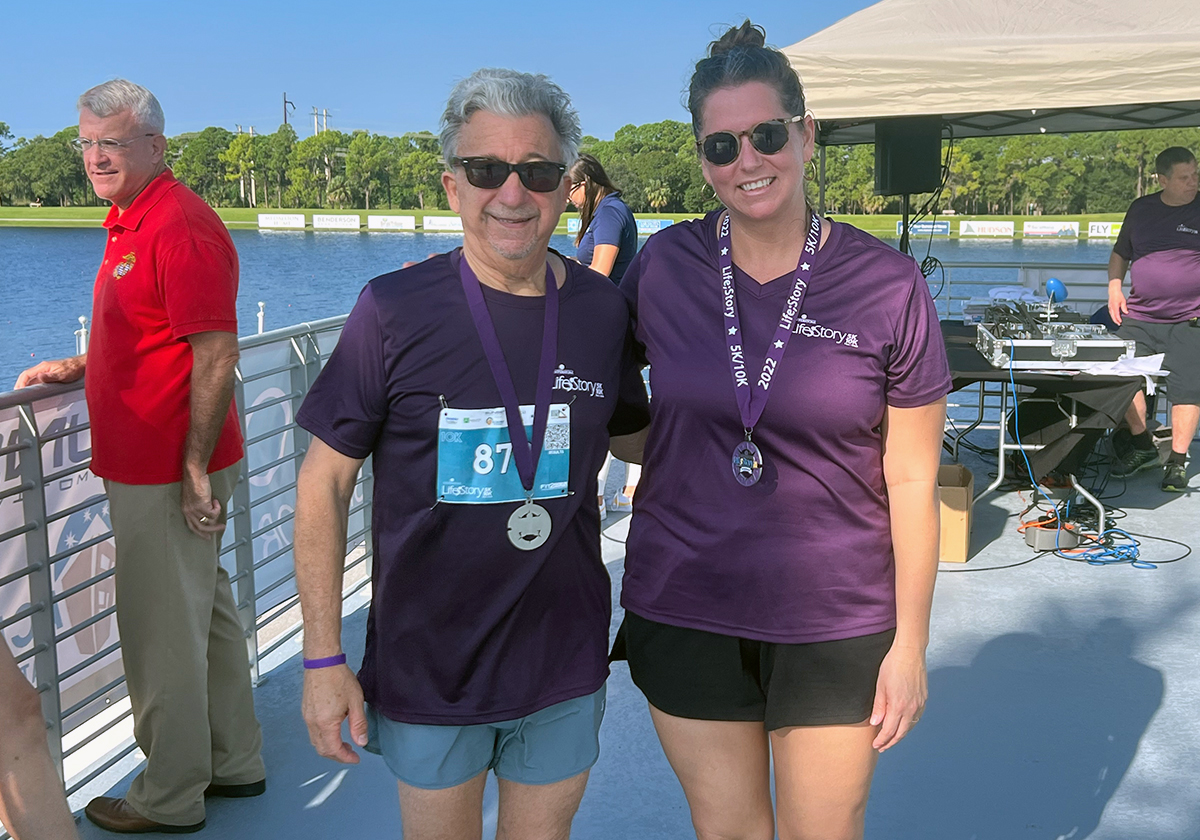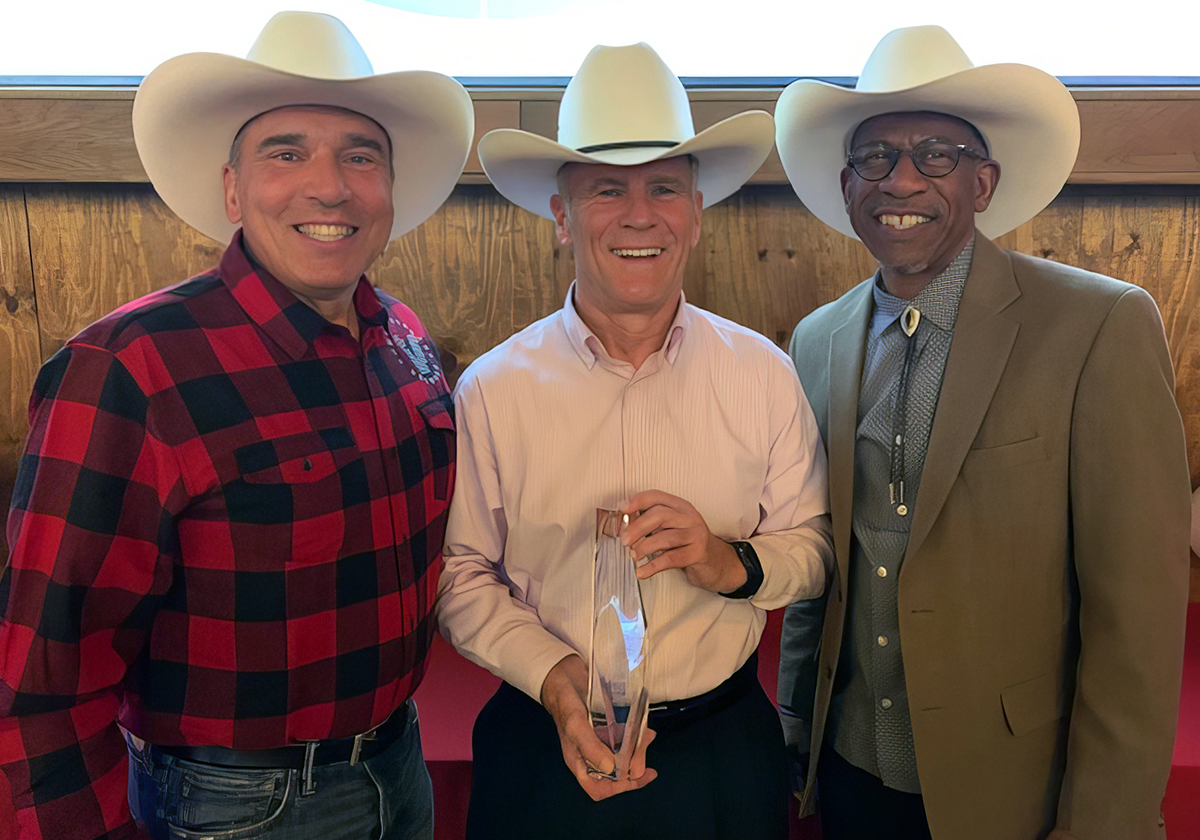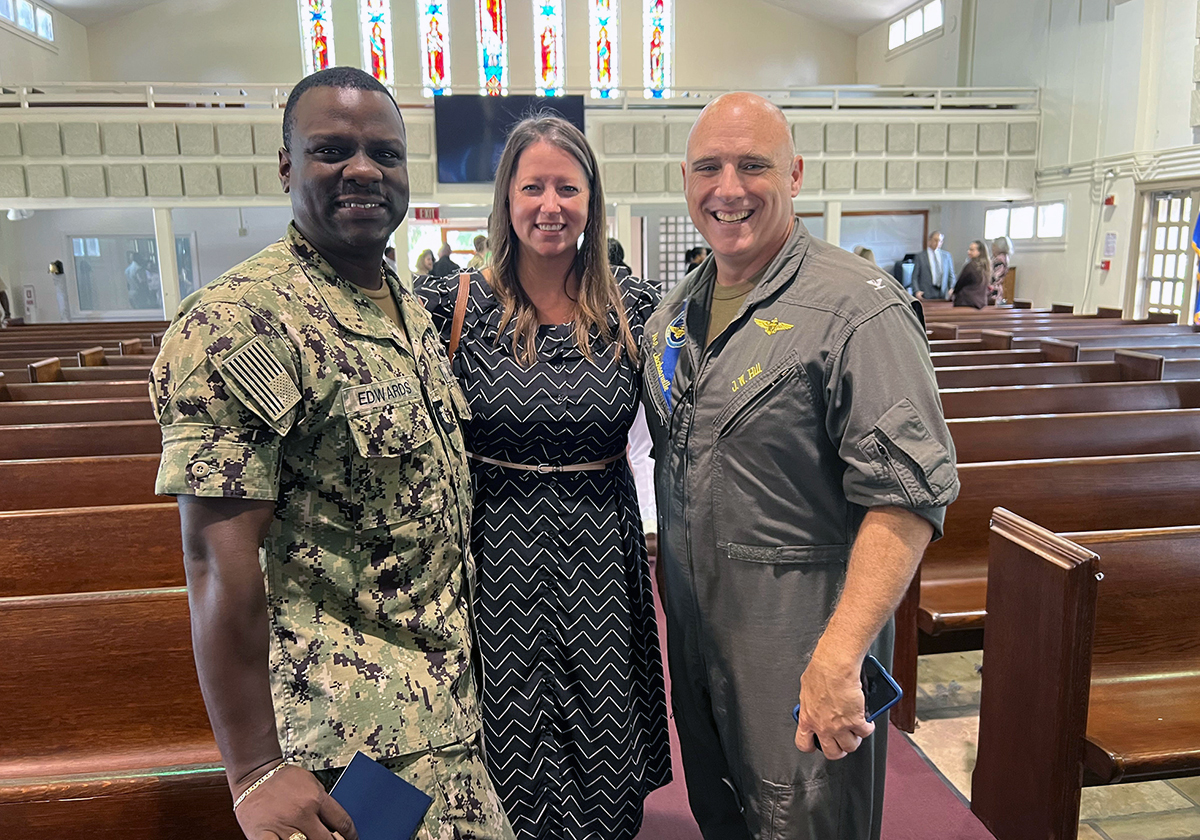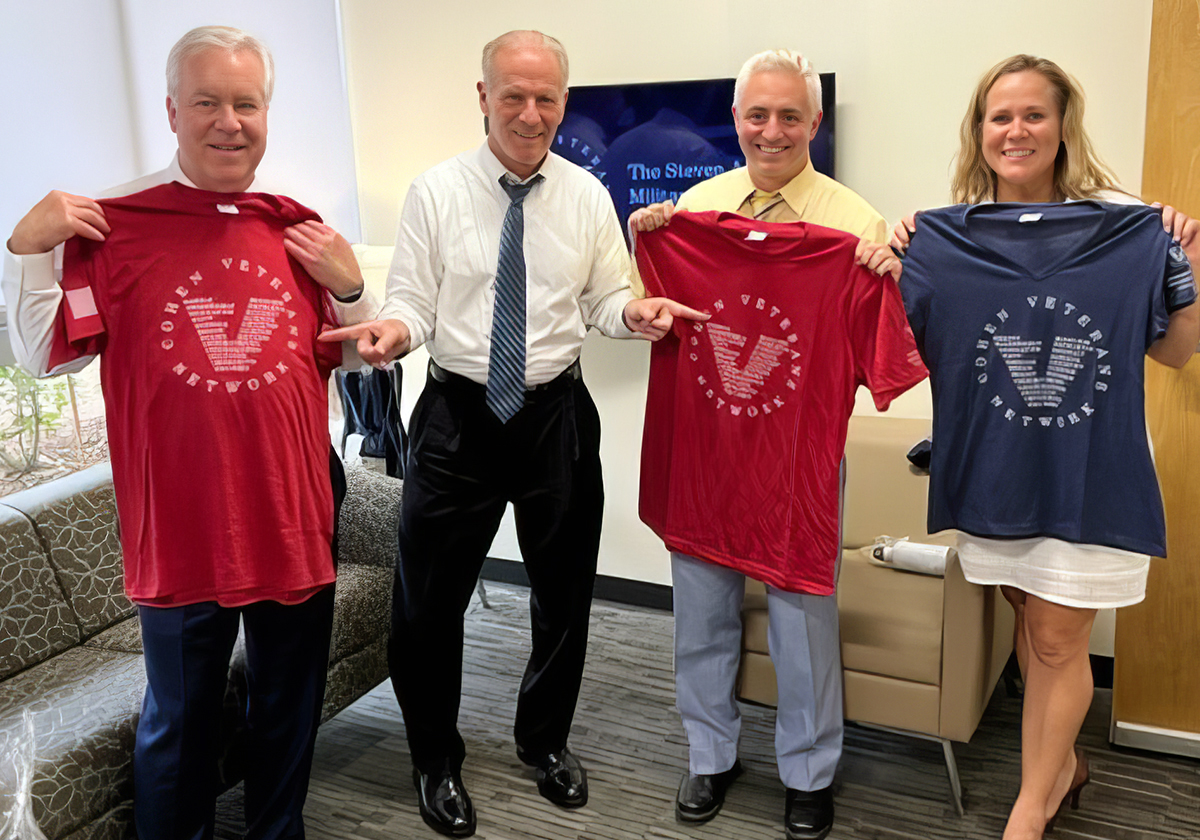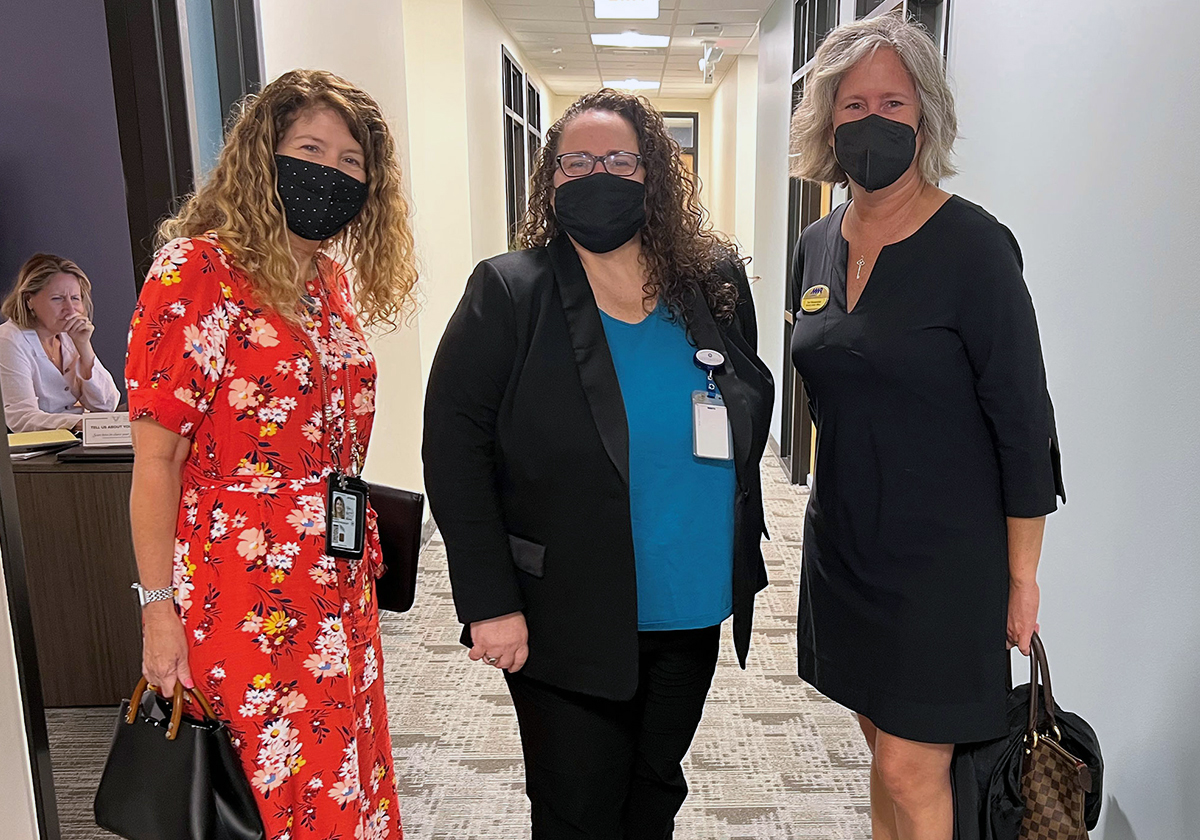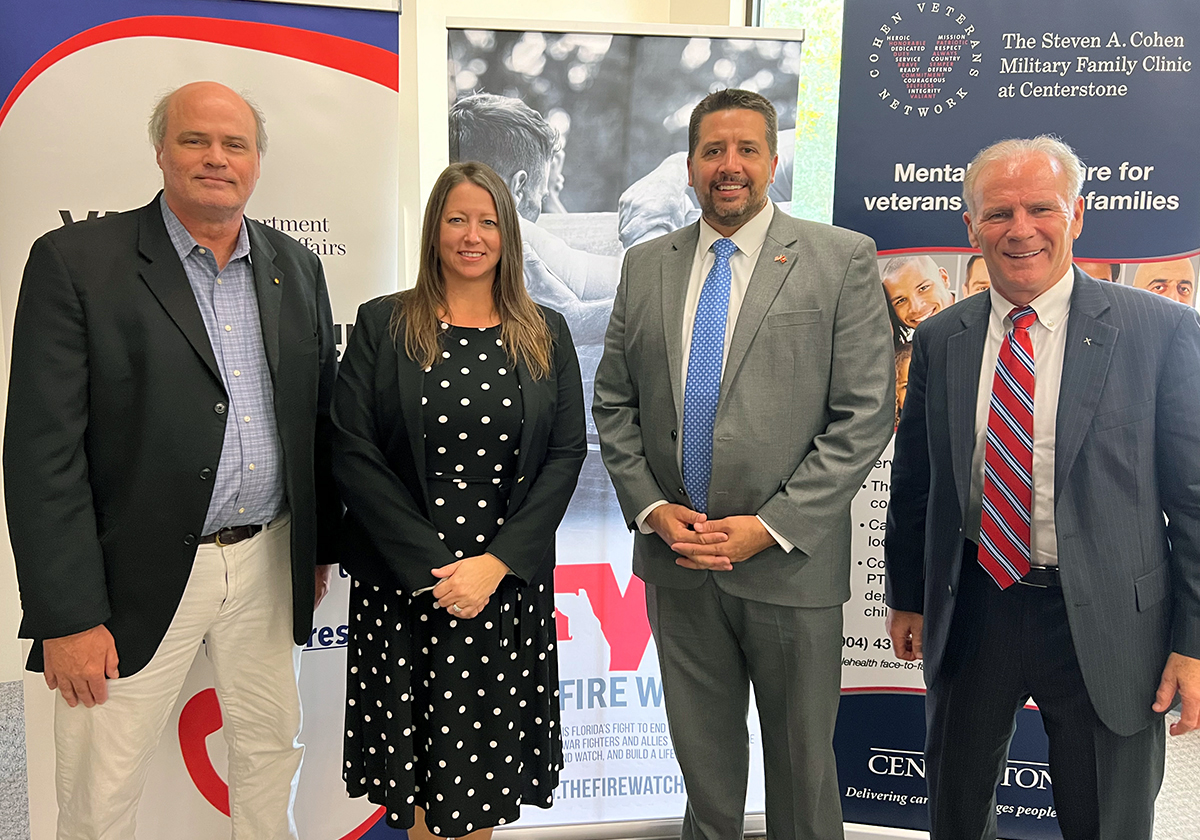 Previous
Next
Who We Are
In 2016, philanthropist Steven A. Cohen recognized the need for accessible, high-quality mental healthcare services for our nation's service men and women and their loved ones. In that year, he made public a long-term commitment to provide that care by establishing the Cohen Veterans Network; a national network of Steven A. Cohen Military Family Clinics dedicated to ensuring veterans and their families receive the support they need to lead fulfilling and productive lives.
To help further this commitment, the Cohen Veterans Network partnered with Centerstone, one of the nation's leading behavioral health service providers. For more than 60 years Centerstone has been delivering life changing care by providing comprehensive, integrated behavioral health services for all ages. Together, CVN and Centerstone are on a mission to provide veterans and military family members with compassionate and effective care to help heal the invisible wounds of war.
In 2017, the first Steven A. Cohen Military Family Clinic at Centerstone was opened in Clarksville, TN. Three years later in 2020, the mission was expanded to include additional clinics in Jacksonville, FL and Fayetteville, NC.
Who We Serve
Veterans & Active Duty – We serve post-9/11 veterans and anyone who has served in the United States Armed Forces, including the National Guard and Reserves, regardless of discharge status, role while in uniform, or combat experience. All sexual orientations and gender identities are welcome. We also treat active-duty service members with a TRICARE referral.
Family – We serve the entire military family, including parents, siblings, spouses or partners, children, caregivers, and others of veterans and active-duty military.
Although we make a priority of serving post-9/11 veterans, each Cohen Clinic will assess all veterans based on their specific needs. We will make every effort to see pre-9/11 veterans who can be best served by our level of targeted outpatient care, based on clinician availability.
Our Services
Services are provided by culturally competent professionals trained to work specifically with veterans and their families. Veterans and their family members are able to receive services individually and as a family unit with the same treatment team.
The Cohen Clinic provides the following services:
Counseling for individuals, groups, couples, children, and families
Psychiatric evaluation, treatment, and medication management
Parent consultation
Case management and resource connection
Life skills and wellness groups
Telehealth services that allow access to all services from home or work
Transportation to and from appointments
The highly skilled clinicians at the Cohen Clinic treat a variety of behavioral health challenges, including:
Depression
Stress
Post-traumatic stress
Substance misuse
Sleep problems
Anxiety disorders
Anger
Grief and loss
Transitional challenges
Relationship and family difficulties
Treatments and brief evidence-based therapies include:
Cognitive Behavioral Therapy (CBT)
Cognitive Behavioral Therapy for Insomnia (CBT-I)
Cognitive Processing Therapy (CPT)
Prolonged Exposure Therapy (PE)
Eye Movement Desensitization and Reprocessing (EMDR)
Emotionally Focused Therapy (EFT)
Gottman
Trauma-Focused Cognitive Behavioral Therapy (TF-CBT)
Parent Child Interaction Therapy (PCIT)
Child Parent Psychotherapy (CPP)
Meet Our Team
Our Cohen Clinic at Centerstone team is led by experienced, culturally competent professionals who are trained to work specifically with veterans and their family members.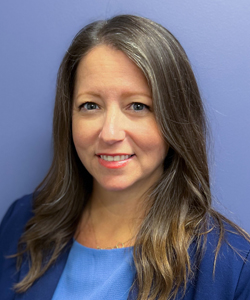 Jodie Bielman, LMHC-QS – Clinic Director
Jodie Bielman is a Licensed Mental Health Counselor with over 12 years of experience in the mental health field. She holds bachelor's degrees in Psychology and Criminology and a master's degree in Forensic Psychology; she is also a Qualified Supervisor for registered interns working towards licensure. Jodie is an active member of the First Coast Girls Initiative Committee and is passionate about seeing her community thrive. She is dedicated to her position as a leader and as a clinician. Her clinical focus includes working with individuals and families who have experienced abuse, domestic violence, and other traumatic experiences as well as those that struggle with anxiety, depression, and PTSD. Jodie is trained in several evidence-based practices and is committed to providing quality care for service members, veterans, and their families.
---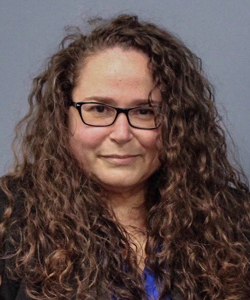 Deanna Iovino, LCSW – Lead Clinician
Deanna Iovino found her calling after just one psychology class prompting her to earn her Master's in Social Work. She comes to the Cohen Clinic at Centerstone with years of experience working with individuals, families, and groups who have experienced traumatic events in their lives. Her therapeutic approach is to address the underlying root cause and effects of the traumatic events that alter client's lives, whether these events are due to physical, sexual, or emotional abuse, and any stressors relating to sexual orientation or gender identity. Utilizing evidence-based practices, Deanna's primary goal is for clients to thrive in their day to day lives, through personal growth and development of positive relationships.
---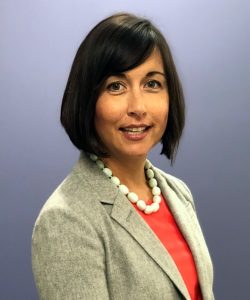 Lisa Eggebeen, MSSW, LCSW – Regional Director
Lisa Eggebeen is a Licensed Clinical Social Worker with 15 years of behavioral health experience, 12 of which have been with Centerstone of Tennessee. She holds a bachelor's degree in Psychology, a master's in the Science of Social Work, and currently oversees the day-to-day clinical and administrative operations for the three Steven A. Cohen Military Family Clinics at Centerstone in Clarksville, TN, Jacksonville, FL, and Fayetteville, NC. She frequently conducts speaking engagements locally and nationally on an array of mental and behavioral health topics. Her professional experience has included both clinical and management responsibilities. Her clinical concentration includes assessment and diagnosis, trauma and traumatic grief and loss, individual and family therapy with children and adults, crisis response, suicide prevention, critical incident stress management, and mental health disaster response.
---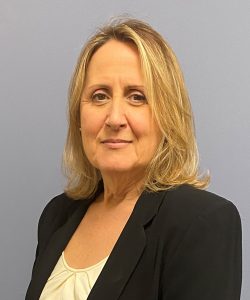 Nicole Wells-Cimmino, LCSW-QS – Therapist
Nicole Wells-Cimmino is a Licensed Clinical Social Worker who has years of experience working with individuals from many walks of life. She believes in working collaboratively with each client as a pro-active advocate never forgetting that each person is unique, and deserving of respect. She is trained in EMDR, psychodynamic, cognitive behavioral and somatic techniques. Her experience includes working with clients that struggle with grief, loss, depression, anxiety, addiction, eating disorders, domestic violence, PTSD and trauma.
---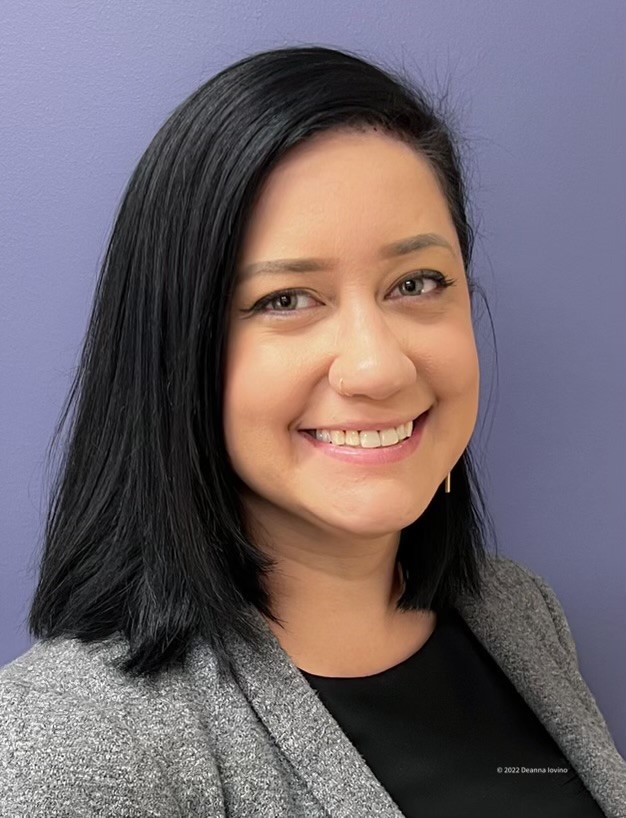 Alexandra Field, CBHCMS, LCSW-QS – Therapist
Alexandra "Alex" Field is a Licensed Clinical Social Worker (LCSW) who holds a Master's in Social Work from University of North Carolina at Charlotte. With ten years of experience in the field, Alex is also a Certified Behavioral Health Case Manager Supervisor and Qualified Supervisor for social workers working toward licensure of their own. Alex's areas of focus include working with those who have experienced abuse, traumatic experiences, mood and anxiety concerns, and children/adolescents. She has experience in individual, group, and family therapy. Alex has training in Trauma-Focused Cognitive Behavioral Therapy (TF-CBT), Motivational Interviewing (MI), adoption competency, suicide prevention, and Prolonged Exposure (PE) therapy for PTSD. Alex enjoys working collaboratively with individuals and families to support them in working toward their individualized goals.
---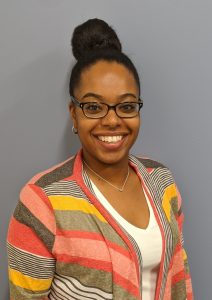 Kelly Capel, LMHC – Therapist
Kelly Capel provides client-led, solution-focused therapy via Telehealth. She has a military family background that has allowed her to understand military culture and its core values and traditions on a personal level. Kelly is a Licensed Mental Health Counselor, and holds a Master's degree in Mental Health and Substance Abuse Counseling. She has experience working with issues related to PTSD, insomnia, anxiety, depression, and addictions. She is well-versed in individual and couples therapy, and her training includes Cognitive Behavioral Therapy (Child/Adolescents, Insomnia, Trauma, Medical, Suicide, and Substance Abuse) as well as, Gottman Method for Couples and CAMS. Kelly works alongside the client to help them reach their goals, and to inspire and encourage clients to become the best version of themselves.
---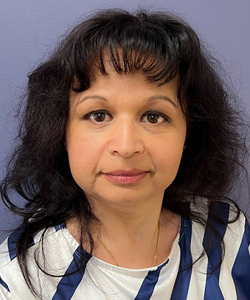 Natalie Byram, LCSW – Therapist
Natalie is the spouse of a disabled veteran, which allows her a unique understanding of the military lifestyle, values, mental health issues, and the associated challenges. She is a Licensed Clinical Social Worker and holds a Master of Social Work from the University of Southern California. Natalie has worked with all diagnoses in mental health with a special interest in trauma, completing her internship in a nonprofit agency working with adults, children, and families. Natalie is trained in TF-CBT, Sand tray, EMDR (eye movement desensitization and reprocessing), internal family systems therapy, and is adoption competent. She utilizes a person-centered approach and has worked with families, groups, and individuals. The primary goal for each of her clients is to identify the underlying causes that are creating problems and help them process these causes and make positive changes in their lives. She notes that her fulfillment comes from observing a client transform from being defined by "what happened to them" to an identity that is defined with a focus on their accomplishments and their increased feelings of self-worth.
---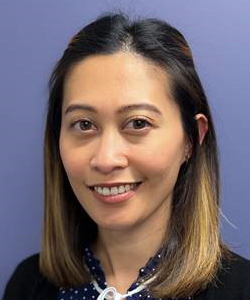 Princes McCarther, LCSW – Therapist
Princes is a Licensed Clinical Social Worker with a passion for providing mental health care to veterans, military personnel, and their families. As a military spouse herself, Princes understands the unique challenges and stressors that come with military life, and she is committed to helping others navigate these difficulties.
Princes earned her Masters in Social Work degree from Delaware State University. She is highly skilled in a range of evidence-based interventions including Cognitive Behavior Therapy, Trauma-Focused Cognitive Behavior Therapy, Solution Focused Therapy, and Trust-Based Relational Intervention. Princes has worked with individuals of all ages including children, adolescents, and adults in both inpatient and outpatient settings. She has a strong cultural understanding that enables her to effectively work with clients from diverse backgrounds and she is especially skilled at helping clients cope with trauma, anxiety, and depression.
---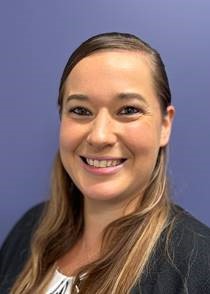 Nikki Robbins, MSW, RCSWI – Fellow
Nikki Robbins is a United States Navy Veteran who wants to continue to serve by helping active-duty service members, veterans, and their families. As a Veteran, Nikki understands the unique experiences active-duty personnel endure and the challenges and stressors Veterans encounter upon discharge so she dedicated to assisting others navigate these stressors and difficulties. Nikki earned her Masters of Social Work from the University of North Florida. While an intern with the Clinic, Nikki was focused on training and gaining clinical experience. Now, Nikki is a Fellow and a Registered Clinical Social Work Intern at the clinic where she continues to gain clinical experience, training, supervision, and hours for licensure. She is skilled in Cognitive Behavioral Therapy and Motivational Interview and helps clients cope with anxiety and depression.
---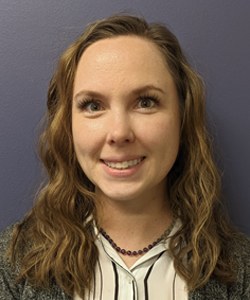 Elle Schlittler, MS, RMHCI – Fellow
Elle is a United States Navy Veteran who is dedicated to giving back to the military and Veteran community. Elle earned her Master of Science in Clinical Mental Health Counseling at Jacksonville University. She used some of her internship time during graduate school to gain experience in families and children as a school therapist, later joining the team at The Steven A. Cohen Military Family Clinic at Centerstone as an intern. While working as a fellow, her goals are to become certified and skilled in evidence-based treatments that are effective for military, Veterans, and their families. She is currently trained in Eye Movement Desensitization and Reprocessing (EMDR) therapy, Accelerated Resolution Therapy, and Cognitive Behavioral Therapy. Elle has plans to continue her education with a goal of improving the research around mental health and military families, primarily military children.
---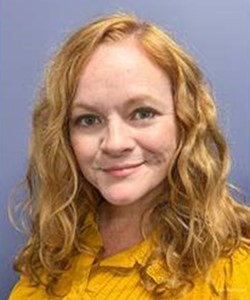 Carrie Johnson-Lupson, BA, MSW – Intern
Carrie Johnson-Lupson is the spouse of a retired, disabled veteran. She earned her Bachelor's degree in Psychology from The University of Tennessee and her MBA from The University of Georgia and is currently enrolled in the MSW program at University of Central Florida. Carrie has twenty years of experience working in the social services field with a variety of populations. During her internship at the clinic, Carrie will be focusing on training, learning, and gaining clinical experience working with the military population. Upon graduation, she intends to obtain her LCSW license and continue to work to provide counseling and services to military members, veterans, and their families.
---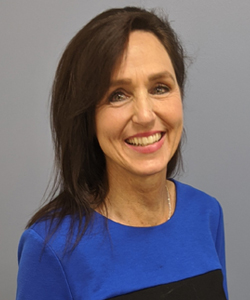 Diane Stover – Case Manager
Diane Stover has been dedicated to providing assistance to military service members and their families for almost a decade. Her primary focus is engaging veterans and their families to identify their concerns and to provide effective, reliable information and assistance. Diane also develops and retains connections with community resources to provide the best possible network of service, support, and resolution. Diane previously worked at Wounded Warrior Project and the University of North Florida Military and Veterans Resource Center. She has extensive experience supporting individuals with PTSD, TBI, trauma and mental health injuries, transition from military to civilian life along with family and relationship concerns.
---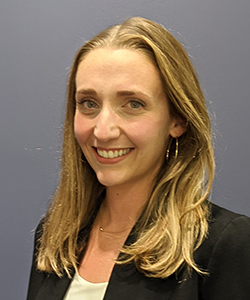 Zoe Panizzi, PMHNP-BC, APRN, RN – Prescriber
Zoe Panizzi is a board-certified psychiatric mental health nurse practitioner providing medication management services for the Steven A. Cohen Military Family Clinics at Centerstone in the Clarksville, Jacksonville, and Fayetteville locations. As a military wife and mother, Zoe understands the challenges that military families face and is passionate about providing high-quality psychiatric care for service members and their families. Mrs. Panizzi graduated from Bowdoin College with a BA in Psychology before completing her Masters of Nursing at Vanderbilt University School of Nursing in 2013. She has a wide range of experience in behavioral health care, including work in community mental health, addiction medicine, intensive outpatient treatment, child and adolescent behavioral health, and extensive work with adults with anxiety disorders, depression, and PTSD. In addition to her clinical work, Zoe has served as a preceptor for Vanderbilt University School of Nursing, University of Tennessee College of Nursing, and Campbell University's Physician Assistant program. She greatly enjoys teaching and the opportunity to participate in the education of the next generation of advanced practice providers.
---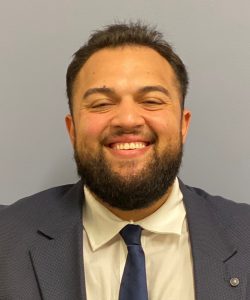 David Vasquez – Office Manager
David Vasquez is a United States Navy Veteran who credits his years as a Hospital Corpsman for teaching him the importance of quality and compassionate mental healthcare. Since finishing his time in service at the Naval Air Station here in Jacksonville, David has chosen to continue helping others through the health industry and is earning his Bachelors of Science in Healthcare Administration. David believes his fellow brothers and sisters in arms have earned the right to accessible behavioral health care and he is driven to provide that care. David plans to continue his education and earn his master's degree in Healthcare Administration from Purdue University.
---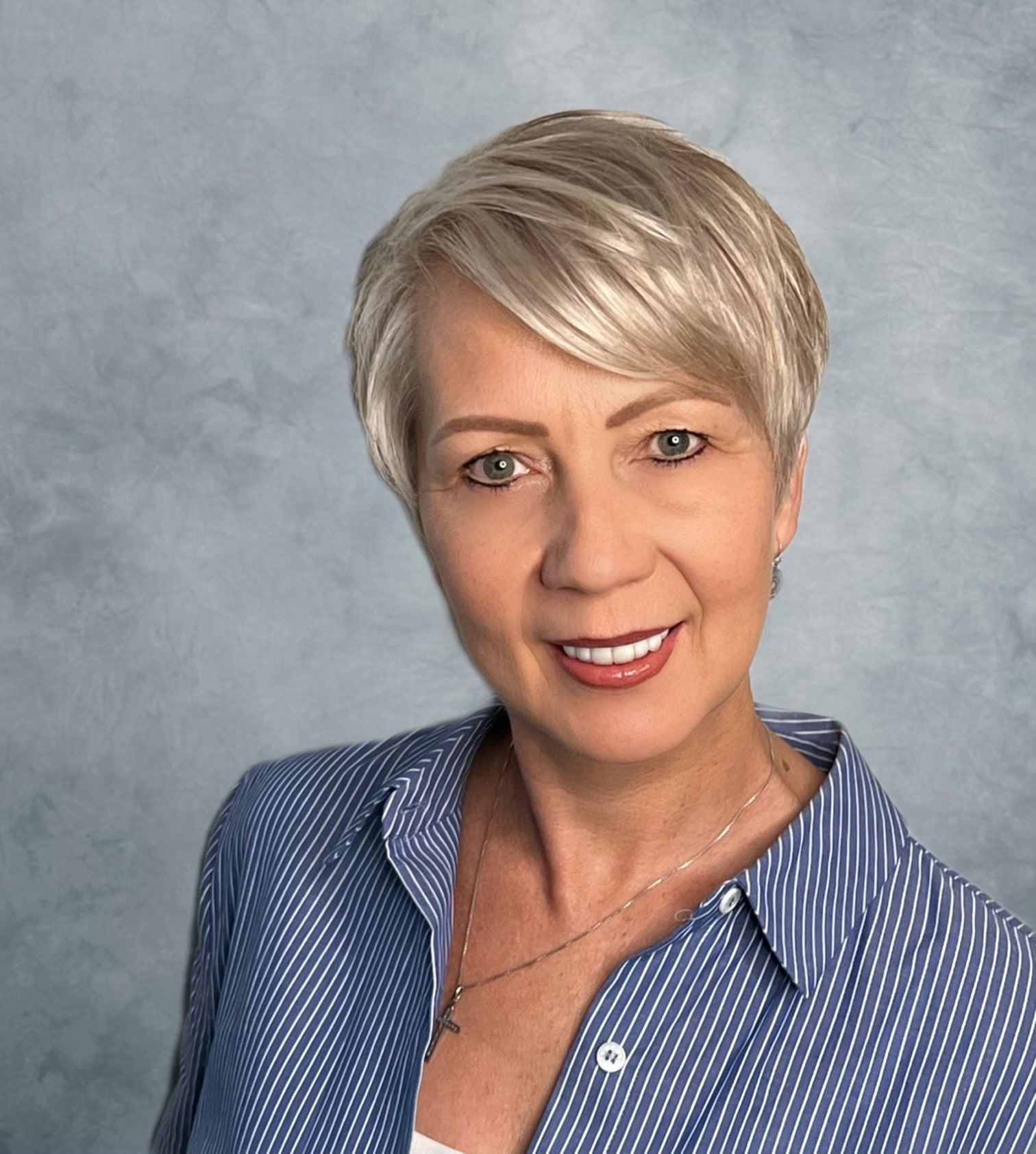 Kat Spitaels – Office Coordinator
Kat Spitaels is a Dual citizen of Belgium and the United States with broad knowledge of the administrative field. She has extensive experience performing multifaceted administrative duties to keep an office running smoothly while maintaining a pristine and friendly environment. She has joined the Cohen Clinic at Centerstone with 16 Years of experience in medical administration and is also certified in Adult and Pediatric First Aid/CPR/AED.
Kat began her journey into mental healthcare specializing in early childhood development. Working closely with pediatric behavioral health physicians, Kat fell in love with the field. Kat is a passionate Mental Health Advocate and has participated in several NAMI education courses, fundraising, and health awareness events. She frequently volunteers at local domestic abuse shelters, helping women she can relate to through prior experience, and always attempts to create a positive outcome out of all situations.
As a military family member herself, Kat brings this personal connection to each patient at the Steven A. Cohen Military Family Clinic at Centerstone as the Office Coordinator.
---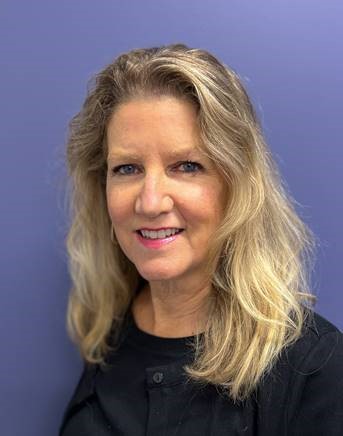 Peggy Henderson – Office Coordinator
Peggy Henderson earned her Bachelors of Arts degree in Psychology from Florida Atlantic University and dedicated over 20 years to the mental health and social work fields. Having grown up in a military family, Peggy identified with many of the challenges that military families face and developed a passion for assisting those who have served our country.
---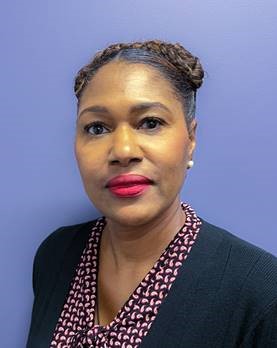 Thomasa Bush, MSW, RCSWI – Intake Coordinator
Thomasa Bush is a navy veteran and an Intake Coordinator. She served as a dental assistant and was trained as a navy corpsman in the United States Navy. She is a recent graduate of our nation's first school of social work at Simmons University. Before entering graduate school, she was a civil servant at Naval Branch Health Clinic; Mayport, Florida. She served as Wellness & Readiness Liaison for more than 12,700 active-duty service members. For 5 consecutive years, she achieved and maintained readiness for the eastern-seaboard, earning her the East-Coast Regional Civilian of The Year. She was also trained as a Department of Defense Sexual Assault Victim Advocate.
Thomasa's practicum experience includes: Validation and Person-centered Therapies for dementia care; Solution-focused Therapy for rehabilitation, Palliative–care Management; Trauma-focused Cognitive Behavior Therapy, Strengths-based Therapy; Children and Adolescent Behavior Therapy; Directive play Therapy; Music Therapy; Art Therapy; Bibliotherapy; and grief and loss counseling.
Thomasa is deeply honored and committed to those who serve in our nation's military. This is why she chose to continue serving our nation's military and their families, with the Steven A. Cohen Military Family Clinic at Centerstone – Jacksonville team.
---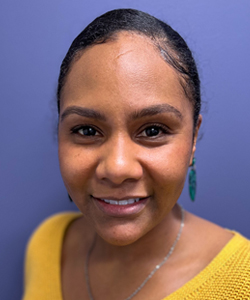 Erma Diaz, MS, RMHCI – Intake Coordinator
Erma Diaz is a United States Air Force veteran and a current member of the Air Force Reserves. After serving on active duty, she began pursuing her goal of becoming a Licensed Mental Health Counselor and graduated with her masters in Clinical Mental Health Counseling from the University of North Florida with a certificate in Animal Assisted Intervention/Therapy. Erma's post-graduation experience includes being a Registered Mental Health Counselor Intern providing therapy services as well as a Mental Health Evaluator. Erma is currently working on earning supervision and client hours as an Intake Coordinator to become licensed in the future. She enjoys working with individuals, couples, and families. Erma knows the commitment it takes for military service as the serving member and as a supporting family member and is ready to assist you and yours.
---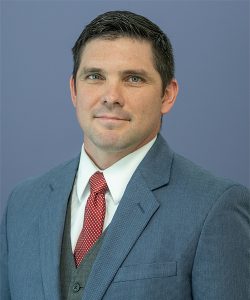 Aaron Goletz – Data Manager
Aaron Goletz holds a bachelor's degree in Social Science and is working towards his master's in Data Science. He is an Army veteran with two Operation Iraqi Freedom deployments who now serves in the National Guard. Aaron has worked as a case manager and counselor for Centerstone and as a researcher for various grant-funded veteran programs. Ever since transitioning back into civilian life he knew he wanted to help other veterans do the same and learned his skills are best utilized in the structured operation of data collection and analysis. As the Cohen Clinic at Centerstone's Data Manager, Aaron continues to serve the veteran and family population from behind the scenes by supporting the front lines of mental health care.
---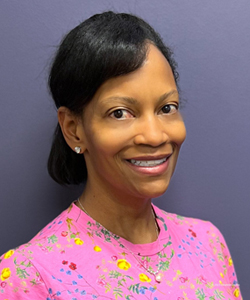 DeAndrea Fuller – Outreach Director
DeAndrea is a retired U.S. Navy Commander, and the spouse of a retired U.S. Navy Captain. Her military experience includes deployments in support of Operation Enduring Freedom, negotiating international agreements while detailed to the U.S. State Department, and various leadership roles. Through extensive community outreach, she endeavors to break down the barriers to care experienced by military members and their families. DeAndrea is a licensed attorney with a bachelor's degree in Corporate and Organizational Communication, a master's degree in International Service (International Development), a J.D., and an LL.M (Environmental Law).
---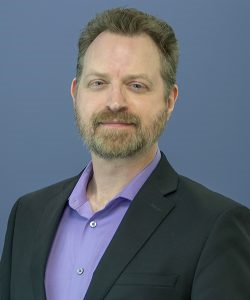 Scott Hudson – Communications Manager
Scott Hudson has a degree in Marketing and a background in creative design, advertising and marketing, software development and project management. He is known for being imaginative and innovative, and coming up with new ways of doing things. Prior to joining the Cohen Clinic at Centerstone team, Scott worked as a creative and digital marketing consultant in Nashville, Tennessee, led software teams as an instructional design project manager in Norway and China, and spent a number of years as a creative team leader at multiple advertising agencies in Canada. His extensive client list includes NASA, the Discovery Channel, BP, Chevron, and Air Canada.
Programs & Groups
The Cohen Clinic at Centerstone in Clarksville hosts regular programs and groups for veterans and their family members. For more information or to sign up, please call the Cohen Clinic at: (931) 221-3850.
Monday:
Tuesday:
Wednesday:
Thursday:
Friday:
Blog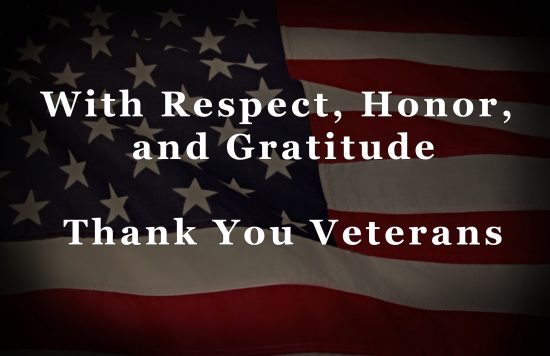 Cohen Military Family Clinic
November 20, 2020
On this Veterans Day, as in years past, I call to mind the contributions of the millions of men and women who have served in our nation's armed forces.  We owe an unending debt of gratitude for the sacrifice our veterans have made, the pain they endured, and the hardships they suffered to ensure our country's flame of freedom would never be extinguished.  Throughout the long history of our nation we have been blessed with heroes willing to sacrifice their freedom to protect and defend our own.  Our veterans have established a legacy of sacrifice, commitment and patriotism that is unsurpassed in human history. ...
Contact Us
Email Us
Sign up for the Cohen Clinic at Centerstone newsletter