Crafting Memories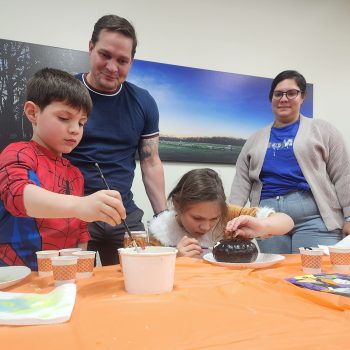 In their hands, common paper turns into decorated journals, socks into gnomes and fallen leaves transform into masterpieces.
"There is no end to the artistic prowess that our friends at Arts for Hearts have shown us over the years," Meghan Williams, outreach director at the Steven A. Cohen Military Family Clinic at Centerstone said. "They've inspired us each and every time they've conducted a class in our community room, but what is even more magical is the memories they help our military families create."
"I'm so grateful you do this," a recent participant said with deep sincerity while getting ready to convert strips of paper and a broken twig into a hoot-full owl on a branch. "Life can be difficult at times. We all struggle. Our son is special needs too. We look for ways to connect. I wish more people did things like this."
Providing the atmosphere to enjoy something new or different is part of what makes the Cohen Clinic at Centerstone unique when it comes to supporting veterans and their families.  It's not just about evidence based, low to no-cost mental health care inside the clinic's walls.  The clinic's mission includes ensuring clients and community members remember they are not alone. By opening its community room doors and collaborating with groups like Arts for Hearts who share a similar goal of uniting people through common interests, it seems the mission is being met.
"People think just because you're associated with the military it must be easy to make friends.  Making friends is hard for an adult," a former Arts for Hearts participant explained. "I think this was a great way to do that.  I recommend it to anyone who wants to connect and try something new."
Arts for Hearts is a program under the Clarksville Arts and Heritage Development council that is dedicated to encouraging individuals to discover and participate in the arts. Every month the group's volunteers gather their supplies for a unique glimpse into what a little imagination can become, such as that "hoot-full owl" made during the August class. What's up next? Who knows? The possibilities are endless, but more importantly, the memories made are priceless.
For more information on Arts for Hearts classes taking place at the Cohen Clinic at Centerstone follow the clinic on Facebook or check out coheninthecommunity.com  for a full list of community room offerings and online groups and workshops.