Focus on Family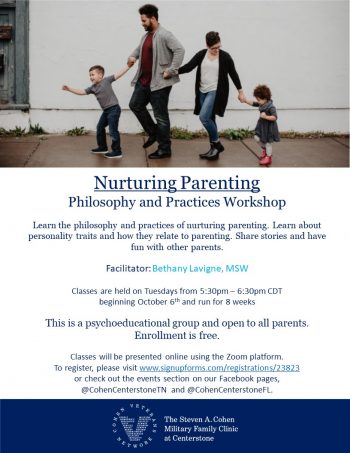 Military families are getting stronger thanks to the Steven A. Cohen Military Family Clinics at Centerstone.  The Cohen Clinics launched their first iteration of virtual Nurturing Parenting classes this month helping families wanting to enhance their connections realize their wishes.
"These classes are perfect for any parents looking to build strong family relationships," Bethany Lavigne, case manager and class facilitator said. "We cover everything from identifying and strengthening family values, understanding feelings, communicating with respect and more."
The eight-week workshop comes at a vital time as many families find themselves with the added stressors of parenting during a pandemic. From virtual learning challenges to physical distancing, families are facing new and unique obstacles.
"Parenting on the best of days comes with its own hurdles.  Add in the current state of the world and the unprecedented challenges we face, ensuring our families remain strong and connected is extremely important," Lavigne said. "We want to offer the tools and support that will help make that possible."
Classes are offered every Tuesday evening virtually.  In addition to covering various familial topics the group sessions allow parents a chance to share their stories, learn from each other and have a little fun.
"We encourage participation in these sessions," Lavigne said. "It always helps to hear from others and realize you are not alone. Being a parent is one of the most rewarding jobs we can do, but is also one of the most difficult so having support from others can be essential."
Thanks to its virtual setting, military families across all of the states the Cohen Clinics at Centerstone serve can participate. That includes, Tennessee, Kentucky, Florida, North and South Carolina, Georgia, Indiana, and Texas.
"We're so grateful to be able to support military families in so many different areas," Lisa Eggebeen, Regional Director of the Cohen Clinics at Centerstone said. "We believe no veteran or military family member should ever feel alone, offering our services virtually is helping us ensure we succeed in that mission."
For more information on the virtual parenting workshop including when the classes may be offered again stay tuned to the clinics' Facebook pages @CohenCenterstoneTN and @CohenCenterstoneFL.