Goblins and Ghostbusters!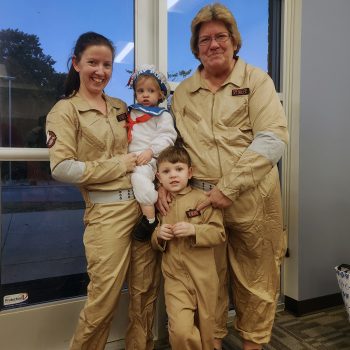 Costumes were donned, candy was given, pizza was eaten and pumpkins were painted! The Steven A. Cohen Clinic Military Family Clinic at Centerstone's community rooms became a Halloween haven last month and more than 60 trick-or-treaters made it a night to remember.
"We couldn't have put this night on without the generosity of our community partners. So a big thank you goes out to Wounded Warrior Project (WWP), Blue Star Families, Team RWB and Arts for Hearts," outreach director Meghan Williams said. "Each of these amazing organizations joined us in creating an evening full of family fun."
This was the clinics first time throwing a Halloween party, but certainly not the first time team members partnered with the above like-minded veteran serving organizations. They have a strong collaborative history and it shows.
"We're a close group," Williams said. "Each of these organizations are dedicate to seeing our military families thrive. Every time we have worked together has resulted in precious memories and genuine smiles on faces of all who attend. This party was no exception."
WWP, Blue Star Families, and Team RWB have joined forces previously to host a "trunk-or-treat" in the clinic's parking lot, a "Holiday Pajama, Painting, Pizza Party" as well as a "Magical Family Night" featuring dinner and a magic show. Each events were a huge success and, now, with Arts for Hearts added into the mix, one can be sure future endeavors will include even more creative flair.
"There is no doubt our organizations will continue to work side-by-side for our military families," Williams said. "We each offer valuable resources to our nation's heroes and together we're helping ensure they thrive."
For information on upcoming collaborative efforts at the Cohen Clinic at Centerstone, be sure to follow the clinic's Facebook page https://www.facebook.com/CohenCenterstoneTN