Healing Hope – An Art Show Success Story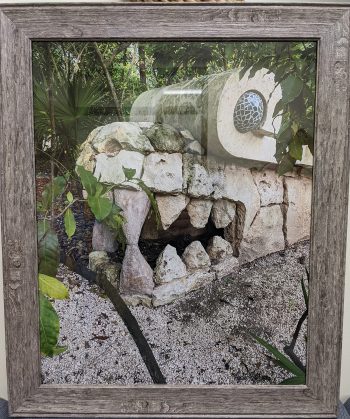 Veteran, Hope Flores, never considered herself an artist. Despite always being creative and volunteering her time with the artistic group, Arts for Hearts, she admits she's her own worst critic. But that and so much more are slowly changing.
"I wasn't the first to call me an artist," Hope explained almost sheepishly. "APSU did. I was asked to participate in the University's Hispanic Heritage celebration where I helped coordinate artwork for display. I was so proud, but overwhelmed by the compliment."
Overwhelmed, but determined to further explore what artistic expression truly meant to her, Hope began a journey that now has her realizing that by sharing her talents, she's finally sharing herself and healing.
"I often wear a mask," she said. "On the outside you see happy, go-lucky, Hope, but inside that's not always the case. Nobody sees the dark side. They can through my art. I can share it there."
The dark side Hope refers to is the myriad of nightmares she's had to overcome. Domestic violence took her mother from her. Her father, who suffered from addiction, was tragically killed as well. She lost her newborn daughter who was born prematurely. And, when she joined the military later in life to support herself and her family, she was met with health challenges and more. Battling the emotions and pain these events caused alone for too long, Hope eventually took the first step – she asked for help, and found her namesake once again.
"Therapy is where I started everything," she said smiling. "It's where I went back to everything and learned pain needs to come out. You won't die from a single paper cut, but you'll bleed out from a million."
Determined to not let her experiences define her and to finally begin removing her "mask," Hope now considers herself an artist and she's once again sharing her work in the 5th Annual Cohen Clinic at Centerstone Community Art Show.
"I want people to know they don't need to be an artist to express themselves. You can express yourself and feel. Life is messy, why can't art be too?"
Hope's work will be available to bid on during the 5th Annual Cohen Clinic at Centerstone Community Art Show that opens on August 7th and runs through August 18th. All proceeds from this year's show will go back to the clinic to ensure service members, veterans and their families know they are never alone – a message Hope has learned and wants to share if only through her work.
"I love that art has given me the ability to talk to people who may have thought they were alone – someone I never knew and show them that I'm still growing, and, if I can, so can anyone.
For more information on the Cohen Clinic's annual art show log onto the website at cohenartshow.com.