Healing with Furry Friends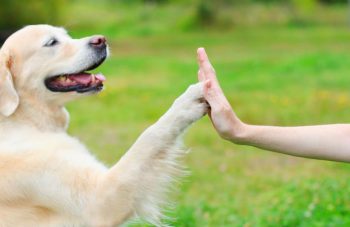 Angela Whittinghill, is a former Jacksonville police officer who has made it her life's work to help those who have suffered life-long trauma and traumatic incidents.  Now a licensed mental health counselor at the Steven A. Cohen Military Family Clinic at Centerstone in Jacksonville, FL, Angela believes that traditional talk therapy is not always the best fit for everyone.  She combines therapy with play, art, education, meditation, yoga, movement and even enlists the help of her canine partner in therapy, Jackson. Together, Jackson and Angela help clients achieve goals, heal old wounds, and bolster their self-esteem. Here in her own words, Angela explains the benefits our furry friends provide in healing.
 In recent years a number of interventions have been employed based on the strong belief that relationships with animals contribute to the well-being of people. For some clinicians, they bring animals into the counseling session because they have become enamored with the therapeutic roles that animals have in the lives of their patients, and others base it on their own personal convictions and attractions to animals.
Regardless of the reasons behind it, let's start by clarifying some important terminology that helps to navigate the world of animal assisted therapies. Animal assisted interventions generally fall under 3 categories: activities, therapy, and education. Animal assisted activities involve visiting hospitals, nursing homes, court rooms alongside an animal, no specific training is required from the human other than basic command of the animal. Animal assisted education is used to help enhance kids' reading skills by reading to an animal instead of having to read in front of the class. Animal assisted therapies such as speech therapy, physical therapy, paraprofessional based therapy, social work, and psychotherapy involve professionals in the respective field who utilize their animals as partners. The animal and the client become equal in terms of importance of wellbeing and safety.
In terms of Animal Assisted Psychotherapy, an intervention with an animal can simply be to allow an animal to be present and to interact freely with the client. It has been clinically proven that these simple interactions help reduce anxiety and stress, and can help provide a calming atmosphere. Having an animal in the room lowers the emotional temperature, even couples fight less and listen to each other more when an animal is present in the room. An animal involved in psychotherapy will react to stress, high anxiety, loud voices, or excessive anger, by retreating to a safe place. They act as a mirror to the client's emotions as they can smell the chemical reactions that occur in our bodies when we experience emotions.
Animals can also be included in mindfulness exercises, they can be taught basic skills or "tricks" by clients which translates into heightened self-esteem and sense of agency for children. Teaching a client how to emotionally regulate by using an animal's reactions to the client's emotions as a measuring stick is another simple way to incorporate dogs and horses, as they are attuned to human emotions.
Research shows that clients involved in Animal Assisted Psychotherapy report that anxiety and loneliness symptoms drop as much as 60% following the Animal Assisted Psychotherapy session. Even by engaging in simple tasks such as petting, hugging, feeding, brushing, drawing with the animal, photographing the animal, sitting near the animal, playing games such as fetch, or taking the animal for a walk.
From a purely pragmatic point of view, pets fill a void in their owner's life, instead of coming to an empty house, people come home to a happy loving animal. The companionship of animals stimulates reactions that are extremely necessary and important to humans. Pets create a balance between one's mind and body, they provide a source of pleasure, connection to the outside world, and for some the promise of hope and reason to live. Hope creates a state of mind that allows people to reach deep inside to persevere.