Helping Heal Heroes Together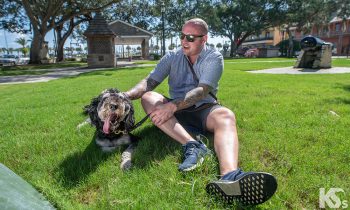 Supporting our nation's heroes isn't always just about supporting the hero. Sometimes it means ensuring those who are the front lines of giving back to this most deserving population, are able to do so to the best of their ability. Team members at the Steven A. Cohen Military Family Clinic at Centerstone understand this and it's why they're once again teaming up with K9s For Warriors to better serve those who gave so much.
In some cases, service-related traumas such as traumatic brain injury (TBI), post-traumatic stress (PTS) or military sexual trauma can prevent a veteran from living the life they deserve. K9s For Warriors is dedicated to giving these veterans the chance to regain their dignity and their independence by paring them with a highly trained service dog. K9s For Warriors exists because of a fierce dedication to saving the lives of both veterans and rescue dogs. Graduates of K9s For Warriors' program are able to live a life that they previously did not think was possible. Many have reunited with their families, gone back to school, found renewed enjoyment in life, and significantly reduced their medications.
The program's success is based on a symbiotic relationship between warriors and staff. Therefore, it is imperative the mental wellness of both Warriors and K9 trainers are considered, cared for and each is given the tools to thrive. Staff members interacting with these Warriors feel a true sense of purpose as they know their work is changing the lives of both Warriors and their families. However, the work of supporting these Warriors can affect their mental health as well. Work-related stress can have a negative impact on healthcare providers' professionalism, quality of care delivery, efficiency, and overall quality of life.
That's where the Cohen Clinic at Centerstone hopes to make a new impact. The clinic provides high-quality mental health services to veterans and military families, but also, as a fundamental tenet of its mission, staff members are committed to giving back to the communities in which they operate- to include consultation around best practices associated with mental wellness, mental health and military competency training, and clinical intervention when needed.
"We believe joining forces with K9s For Warriors, and offering our services to their veterans and staff members will provide tremendous long-term benefits for everyone involved in this incredible program," Lisa Eggebeen, Regional Director of the Cohen Clinics at Centerstone said. "We want staff members to feel confident and competent in their interactions with those they serve. To help with that, we've created a staff mental wellness program that includes briefings on Mental Health Awareness and Resources, and Military Cultural Competency Training. These elements will ensure staff fully understand the military experience and its impact on the Warriors they serve."
Clinical staff have also developed protocols and mental health assessments to help gauge acuity needs of the Warriors and their families. Identification and administration of these assessment measures will help to identify any major changes in Warrior wellness and establish outcomes to support the efficacy of K9s'programming.
"We are leveraging the expertise of our Cohen Veterans Network at Centerstone colleagues to significantly enhance our mental wellness program," said Rory Diamond, K9s For Warriors CEO. "As we continue to expand our services nationwide, Warriors and staff will greatly benefit from our partnership."
And that's the bottom line – fighting together to give the best back to those who fought for us.