Light in Darkness: An Art Show Success Story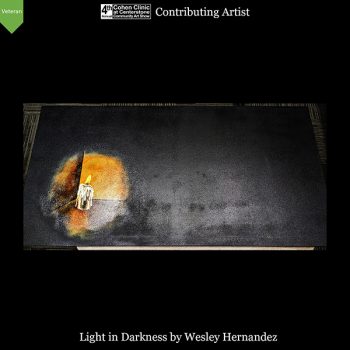 "I'm so nervous, my hands are sweating."
Wesley Hernandez uttered those words more than once on October 6th, 2022. Yet, there he was in his mentor's art studio doing something he never thought he'd do – give patrons a play-by-play of his art work.
"I'm so proud of him," his wife Leah told me as she watched her husband conquer his fears and reveal the meaning behind each of his paintings on display at DBO Gallery in Downtown Clarksville.
Leah was there when Wesley participated in the Annual Cohen Clinic at Centerstone Community Art Show for the first time. She remembers how hesitant he was to put his creations on display and what an accomplishment it was for him to do so. Back then, it was rare to hear Wesley speak or open up to anyone. Now, here he was again, taking another huge step before her and not only hanging his work in a studio, but vulnerably telling his story along with it.
"He's come so far," she whispered.
As an Army combat veteran, Wesley witnessed his share of tragedy overseas. He admits he struggles with those nightmares as well as complications from a traumatic brain injury sustained during deployment. For years, these struggles prevented him from finding peace.
"When I came back, trying to fit into society, I had no place there," he recalled to me as we stood in front of a piece he named 'Domestic Beast'. "I felt weird – chained."
The painting before us depicted those emotions with a shackled, angry wolf-like creature straining against its confinement in what appeared to be an average kitchen, complete with a light and a painting of sunflowers hanging in the background.
"After getting blown up, I was introverted, very depressed, crying all the time. I had a dream I was in the hospital. In the dream I saw my son as light and my wife as sunflowers. The nurse told me I had to find a reason to live and that's the inspiration here."
Drawing strength from his family, Wesley's smile is slowly returning. It's even been captured in his favorite painting inspired by a photograph where his friend caught him laughing. He claims it was a rare moment where he genuinely smiled for the first time in a long time. But it won't be the last.
"Through it all Wesley has never given up," Leah said, still not taking her eyes off her husband as he welcomed another set of art lovers in the gallery. "He's still fighting. Even in bad days, he's still trying."
Steps like joining the clinic's community art show or this month's Clarksville Art Walk are part of that effort. He refuses to give up his quest to slay his 'beast'. He participates in therapy and allows emotions to pour from his brushes in order to find light in the darkness, as portrayed in another piece featuring a single candle casting rays of hope on a blackened canvas
"It's so easy to be negative," he told me. "It's effortless to be negative. It's so hard to be positive so I had to work to capture that. So this is finding light in darkness. A little bit of light can illuminate a whole room."
In Wesley's case, it appears that small glow is leading towards something much bigger.
"I set goals," he explained when I asked what comes next for him, now that he's taken this huge step towards healing. "One of the goals was to do this art crawl and I was terrified. I was freaking. I'm still freaking out, but I'm pushing myself. It's too easy to run away."
Nervous. Sweaty hands and all. Wesley Hernandez has found his light and he's beginning to let it shine.
The 4th Annual Cohen Clinic at Centerstone Community Art Show wrapped up this past month. We are so grateful to all of our participating artists for sharing their talents with us. A big thank you also goes out to all who attended the show's final night, and to Customs House Museum for allowing us to hold the show in the perfect place. This show is near and dear to our hearts and is helping change lives. Here is just one example of the healing power of creation.