Meet the Interns: Michael Heggie, Barbara Carlson and Serena Vess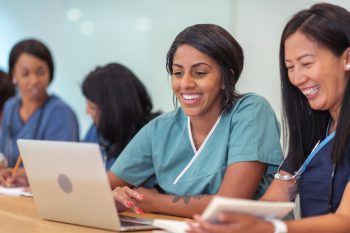 One thing is definite within the Steven A. Cohen Military Family Clinic at Centerstone – our team is a team. Each and every staff member not only plays a crucial role in accomplishing our mission to ensure our military families receive the care they've earned, but they do so from the heart and with a passion that can't help but to inspire. Here's a closer look at three very special teammates, interns, Michael Heggie, Barbara Carlson and Serena Vess.
Tell me a little bit about yourself, such as where you grew up and your background leading up to joining CVN?
Michael: I grew up in a military family and have been around military personnel my entire life, some of earliest memories are being 'dressed down' by a Major or Colonel while on base with my dad. My dad made a career out of the military and flew Cobra and Apache attack helicopters during his 30+ years in the military. Before I started on my therapy journey, I used to run kitchens and restaurant lines! I can authoritatively say that kitchens are definitely a place that therapists would find a lot of work in. I'm a Tarheel (The University of North Carolina) and a Volunteer (The University of Tennessee), so I'm spoiled for choice when it comes to top-performing college basketball programs.
Barbara: I grew up in Illinois about an hour outside of Chicago and I currently attend a small private-school in Illinois (Aurora University) that I am obtaining my MSW from. I also completed my undergraduate degree at that school in Criminal Justice and upon moving to Tennessee two years ago, I decided to continue my education and move more toward the social work side of things as opposed to the legal aspect. I have always had a passion for helping others and being in a helping profession and moving to a town near a military base and having multiple family members in the service, I have witnessed the need for mental health clinicians in that field. I am currently specializing in Military and Veteran Social Work and once I heard about the Cohen Clinic, I was pleased to become a part of such a great team in my own community.
Serena: I always have a difficult time answering where home is for me. I truly feel like everywhere I havelived growing up was home for me during that chapter of my life and will always continue to hold a place in my heart. My dad is an Army Veteran and has worked for the army as a civilian for almost thirty years now so I had the chance to live around different Army bases around the world. I lived in South Korea, Colorado, Italy and now Tennessee, spending almost ten years in Korea and 8 years in Italy. This made me appreciate and respect the military from a young age and is how my passion began to serve those who serve, have served, and their families. This passion ultimately would drive all my education and career decisions moving forward. I studied Psychology and Human Services at the University of Northern Colorado and graduated with my Bachelors in 2020. I took the next year off and moved back overseas to spend some time traveling with my now husband who was stationed in Italy at the time. In 2021 I decided to go back to school to get my Master's in Social Work from the University of Tennessee, got married, and my husband got orders to Fort Campbell. My husband and I have been living in Clarksville since then and I am currently in my last semester of school. I was hired on as a clinical intern at the Cohen Clinic last fall, and it has been such an amazing experience.
Before I started on my therapy journey, I used to run kitchens and restaurant lines! I can authoritatively say that kitchens are definitely a place that therapists would find a lot of work in.
You've taken life experience and built a career to help others, what was your greatest takeaway from this process?
Michael: Find out what you're good at, figure out how you can positively contribute to your community with those skills, and then it's all pedal to the metal after that!
Barbara: My greatest takeaway from this process is to remember to be mindful of the population you are working with and their experiences as they are very different for everyone!
How have things been going at the clinic since you arrived?
Michael: Great, I've learned so much in terms of professional competency and psychological interventions. I've also begun my journey of understanding the rhythm of work that comes with being a clinician, such as how to manage stress in a healthy way and when I should and should not push myself.
Barbara: Things have been going well and I enjoy being able to learn and grow at the clinic from the help of those around me.
What do you hope for clinic and your clients?
Michael: I hope the clinic keeps the team atmosphere, it's been so important for me during the especially trying times of my internship. I hope that the clients leave our doors with a sense of renewed mastery over a challenging aspect of their lives.
Barbara: I hope that I am able to continue to learn and grow while creating and partaking in educational experiences for my career path and also make a difference in helping my clients and making a difference in their lives as well.
Serena: I hope that this clinic continues to fill the growing need for quality mental healthcare for the community. Our clinic is filled with so many individuals who truly care about the community and believe in what we do here. Finding timely quality mental health care can be extremely difficult, especially for military families. I love that we have the opportunity to try and meet this need and to do so with so many staff members that are a part of the military communities themselves. During my time here I have spoken to several clients that are grateful to have a place in the community with clinicians and staff who make their military experiences, good and bad, feel heard and valued.