Meet the Team: Alcanna Davis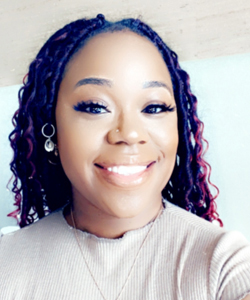 One thing is definite within the Steven A. Cohen Military Family Clinic at Centerstone – our team is a team. Each and every staff member not only plays a crucial role in accomplishing our mission to ensure our military families receive the care they've earned, but they do so from the heart and with a passion that can't help but to inspire. Here's a closer look at one such teammate, intake coordinator, Alcanna Davis.
Tell me a little bit about yourself, such as where you grew up and your background leading up to joining CVN?
Hello! Originally born in Anniston, Alabama, the military life took me many places. I hold an assortment of experiences ranging from the U.S. Army, to nursing to the social work arena; all while being a mother of five children varying in ages. With the diversity of my professional and personal background, I enjoyed engaging in training experiences allowing me to meet individuals from all cultures. With that, I always knew I wanted to use my experiences to engage with individuals who maybe simply needed someone to relate to from a sense of military life and motherhood. So, I became a student (again). I earned my Bachelor of Social Work from Austin Peay State University, and furthered my education to gain a Master of Social Work degree with a concentration in Military Populations from Walden University. I began my social work foundation with case management and family advocacy, progressing into Intake Coordinator with the Steven A. Cohen Military Family Clinic at Centerstone as of March.
If a Veteran, can you tell me about your time in service?
My Army service plays are large part in my identity today. My tenure in service consists of over 8 ½ years active duty and 6 years reserve, including 2 Afghanistan tours.
If a Veteran, what was it like returning to civilian life?
Transitioning from the Army was an adjustment of many. I felt like I had to find a sense of myself again. With the ongoing support of my family, friends and battle buddies, I knew I had purpose outside of the Army.
You've taken life experience and built a career to help others, what was your greatest takeaway from this process?
My greatest takeaway on my journey in building a career to help others is to reciprocate kindness, genuineness, acceptance, compassion, and validation. You may never know someone else's journey and what they are going through to build something.
What do you hope for clinic and your clients?
My hope for the clinic is to simply be whatever someone needs in their moment. I hope that the Steven A. Cohen Military Family Clinic continues to build its foundation as a safe space for service members and their families.
What do you like to do for fun?
For fun, I enjoy traveling (Especially out of the country), quality family time, near or far and college football.
Favorite sports team?
Auburn Tigers #War Eagle