Meet the Team: Cindy Paauw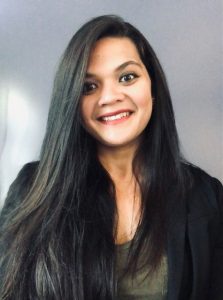 One thing is definite within the Steven A. Cohen Military Family Clinic at Centerstone – our team is a team. Each and every staff member not only plays a crucial role in accomplishing our mission to ensure our military families receive the care they've earned, but they do so from the heart and with a passion that can't help but to inspire. Here's a closer look at one such teammate, clinical supervisor, Cindy Paauw.
Tell me a little bit about yourself, such as where you grew up and your background leading up to joining CVN?
This is always an interesting question for me, I'm still trying to find where "home" is.  I was born in Jakarta, Indonesia, spent 6 years of my childhood living the island life in Bali. Growing up, we lived quite the nomadic lifestyle (thanks to my American, nomad-hippie father) up until I graduated high school, little did I know, this was a warm up for the military life I eventually signed up for. I moved to the states at age 15 and eventually went to college in upstate NY and graduate school/jump started my early career in New York City. I married my college sweetheart in 2013, who commissioned as an officer in the US Army in 2010. Our first duty station was in Ft. Wainwright, AK. It was here that I started my career as a therapist/clinical social worker working primarily with the indigenous/native Alaskan population. We absolutely loved our time "roughing it" in Alaska, living in a [mostly dry] cabin in the woods, equipped with a 400 Gallon water holding tank and outhouse (We used our water strategically). I first got licensed in Alaska in 2016.
I stumbled into the world of CVN when we were stationed in Ft. Hood, TX. I initially joined the CVN team in July 2018, working for the clinic in Killeen, TX. In 2019, we PCS'd to Virginia Beach. There, I was part of the pioneer team that opened up the CVN clinic in Aug 2019. Our family loved living by the beach, and found a sense of home in Virginia. Pre COVID-19, I always saw the value in conducting treatment via telehealth, and was known as the Telehealth "champion" at the VB clinic. This made the transition to telework rather smooth during the COVID era, when we all had to shift our work remotely (most of my clients had already been seen via telehealth!). We are now stationed in Ft. Leavenworth, KS and I am forever grateful that Centerstone adopted me as their newest remote clinician, as I was dreading there not being a CVN clinic anywhere near middle of nowhere Kansas! I am so grateful I still am working within the CVN clinic network and to have crossed paths with some of the most wonderful, talented, dedicated group of humans I've ever met. I'm currently licensed and able to serve clients in 3 states, VA, TX and TN.
You've taken life experience and built a career to help others, what was your greatest takeaway from this process?
This was definitely a process, and it took a detour to get me here. I had different "plans" for my life, but those alternate plans did not sit right with my soul, and did not feel in line to who I was deep inside and what mark I really wanted to leave in the world. Prior to my decision to become a social worker/therapist, some may say that I was living a "dream career/life", but it wasn't my dream. Needless to say, I had an existential crisis, a breaking point. Sometimes it takes exactly that, to listen to our doubts; to confront what it is that we truly want out of life and to carve a path out for ourselves that feels more authentic to our process.
What do you hope for the clinic and your clients?
I hope that this clinic and the network continues to grow and flourish for many years to come. Already, we are seeing a significant shortage for quality, accessible mental health care for our veterans, service members and military families. Our clinic plays a role in bridging an important gap in care by eliminating barriers and a building a network of individuals who have the cultural knowledge, commitment and skills in working with the military community. I hope that clinics across the network continue to build an internetwork community between clinics so we are able to share resources that can better serve our clients. I hope to continue to see clients grow and thrive and as one put it "reclaim parts of myself again that I haven't felt in touch with in years". I hope to continue to meet my clients wherever they are in their process and to honor just that, they've made it here to my door (umm..I mean screen), and that in itself is a victory.
What do you like to do for fun?
I'm a lover of nature and the outdoors (but I love city life too!). Some may call me a person of extremes. When I vacation, I either go backpacking (ultralight!) for a week in the mountains (yes, even with my 3 year old in tow), or I "ball out" and stay at a resort in the Mediterranean.
Some of my hobbies/loves: Yoga, road trips/travel, art; drawing/painting, catching up with old friends, reading books (aka, these days, listening to audible), hiking, spending time with my 3 year old, cooking.
Favorite sports team?
This was due to major indoctrination in my family (dad's side)…. football=religion
GO BLUE! (Michigan –dad and uncle graduated from there)
GO HAWKSSSS!!!—Seattle Seahawks