Meet the Team: David Smith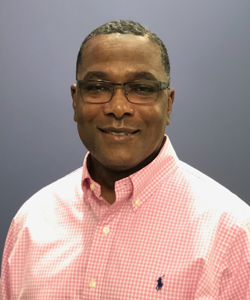 One thing is definite within the Steven A. Cohen Military Family Clinic at Centerstone – our team is a team.  Each and every staff member not only plays a crucial role in accomplishing our mission to ensure our military families receive the care they've earned, but they do so from the heart and with a passion that can't help but to inspire. Here's a closer look at one such teammate, Cohen Veterans Network fellow, David Smith.
Tell me a little bit about yourself, such as where you grew up and your background leading up to joining CVN?
I was born and raised in Detroit, Michigan.  I am the youngest of six children, a definite surprise to my parents because the oldest 2 children were adults.  I graduated from the prestigious Detroit Cass Technical High School and was an epic failure at higher education.  My parents had always influenced us to volunteer, so I enlisted into the Army to gain some needed focus and self-discipline.  Throughout 22 years of service, I married a soldier at Ft. Campbell (I needed someone to understand my passion for the Army), had two sons, and realized the joy of helping other human beings achieve their dreams.  After the military I continued to work in occupations that served others, I was employed as a Defense Contractor, a Police Officer and a Job Coach for individuals with disabilities.  At this point, I discovered that I wanted to become a Social Worker when I grew up.  I completed my Bachelors in Social Work, with a minor in Family Studies from Austin Peay State University and began working with the Montgomery County Veterans Treatment Court.  Several of the best therapist and support staff that I had been working with in the Clarksville area begin to relocate to the Steven A. Cohen Military Family Clinic.  The word on the street was, "That place is great, and they provide help for the entire family."  I was accepted at the Cohen Military Family Clinic as a clinical intern during my Specialized Field Practicum.  I completed my Masters in Social Work, with a Trauma Treatment Graduate Certificate from the University of Tennessee and have been accepted for a fellowship with the Cohen Veterans Network.
If a Veteran, can you tell me about your time in service?
The majority of my 22 year career was served at Ft. Campbell, KY, though not physically at the base it was my home address for many years.  Training and special assignments with the United States Army Chemical Corp kept me traveling between Ft McClellan, AL, Aberdeen Proving Grounds, MD and Ft. Leonardwood, MO.  In order to keep my children stabilized I traveled on temporary duty opposed to uprooting the family.  I deployed to Operation Desert Storm/Desert Shield and Operation Enduring Freedom, but neither was with Ft. Campbell.  I served 2 tours in Germany and 2 tours in Korea, with my only other stateside assignment being 3 ½ years at Ft. Knox, KY training young Americans to become warriors.
If a Veteran, what was it like returning to civilian life?
Transitioning from the military was a challenge.  I had discussions with my family, a plan was developed to transition and my wife was ready for me to permanently unpack.  It briefed well, but unfortunately I was not mentally prepared to depart my life of service to this nation.  I spent my transition as a Department of Defense Contractor training soldiers and providing support to coalition forces in Kuwait, Iraq, Afghanistan, and Bahrain.
You've taken life experience and built a career to help others, what was your greatest takeaway from this process?
Two of my greatest takeaways from my journey thus far are: 1) the pleasure of assisting Veterans and military families as they navigate the difficulties of service and family, and 2) the comradery of the military community; which can only be explained by experiencing this extended family setting.
How have things been going at the clinic since you arrived?
Since arriving at the clinic I have enjoyed the opportunity to collaborate with experienced clinicians from many disciplines.  The environment is an open classroom where you gain irreplaceable hands on experience.
Have you faced challenges so far in your time at the clinic?
My greatest obstacle at the clinic so far is to identify clients that I have had a previous relationship with through the criminal justice system or the military.
What do you hope for clinic and your clients?
I hope the clinic continues to provide quality care to the military community as well as educate the public to remove the stigma attached to mental health.
What do you like to do for fun?
For fun, I spend time with my family, to include extended family.  Separation was frequent, so I enjoy just sitting around catching up with everyone.  My quiet time is spent volunteering with Big Brothers/Big Sisters of Clarksville and maintaining my yard.
Favorite sports team?
Pittsburg Steelers – I became a fan in the era of the Steel Curtain