Meet the Team – Haley Allio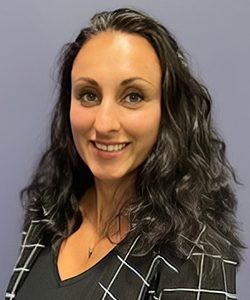 One thing is definite within the Steven A. Cohen Military Family Clinic at Centerstone – our team is a team.  Each and every staff member not only plays a crucial role in accomplishing our mission to ensure our military families receive the care they've earned, but they do so from the heart and with a passion that can't help but to inspire. Here's a closer look at one such teammate Case Manager, Haley Allio.
Tell me a little bit about yourself, such as where you grew up and your background leading up to joining CVN?
I was born in Colorado Springs, CO and was raised there until I was 19 years old. I amnumber 4 out of 5 kids in my family. I have two older brothers, one older sister, and one little sister. During high school I worked in the food industry and watched my mom struggle month to month with bills and knew I never wanted to experience that myself or my future family. I started working at Chipotle in high school for a few years and when I graduated I knew I wanted to do something more with my life. I tried to go to college for culinary because I really love to bake but realized I was not quite ready to do school again after graduating high school and I wanted a break. I had no "future goals" and was really unsure of what my future held. I decided since I had nothing planned, I also had nothing to lose and joined the US Army as an active duty soldier as a 92A Logistics Specialist. This was the best decision I made for myself during this time I was able to learn how to exercise (LOL), build my professional portfolio, and think about what I wanted to do. I had one combat deployment to Afghanistan within a combat engineer company while stationed at Fort Knox, KY (yes the gold vault is still there). I had a great time serving the Country and learning more about myself and finding my future goals. I met my husband at Fort Knox. We got married and wen to Germany for 3 years and had two beautiful children. While we were in Germany there were not many jobs for Americans so I did college full time with what always interested me which was the human brain and how amazing it is. So graduated with my bachelors but knew I wanted to be become I therapist and empower people to be the best they can. I then went on to APSU to receive my Masters in Social Work. During my previous work experience as a case manager in community mental health and my interships I learned about the Steven Cohen Clinics and heard about the great models, training, and overall work that they do with clients and I knew I had to try and be apart of a health care team that was accomplishing great strides in mental health. I was hired as a Case Manager in 2023 and am currently working toward becoming a clinician so I can empower others and give back to the community that I live in.
If a Veteran, can you tell me about your time in service?
My Army service shaped a huge part of who I am. During my time in service I had a lot of time to be separated from my family and reflect on who I was and what I wanted to accomplish with my life. It gave me direction and held me accountable for my actions as well as pushed me to become comfortable with being uncomfortable and becoming a leader. I am so grateful for that opportunity and will always be a part of the veteran community.
If a Veteran, what was it like returning to civilian life?
Returning to civilian life was … interesting to me. It was hard especially because when I got out I was unemployed due to living in Germany so I went from serving to no job. I was able to make my own schedule during this time which was work out in the AM and then school in the PM (honestly how do you beat that). I missed the comradery the military has and the ease of making friends due to everyone adjusting to new people all the time. I think the culture is so different from civilian life that it is hard to compare.
You've taken life experience and built a career to help others, what was your greatest takeaway from this process?
My greatest take away from this process so far has been the ability to be humbled and open my eyes to a bigger picture and being fortunate to be a part of people's lives in a challenging and vulnerable time and being able to help them.
How have things been going at the clinic since you arrived?
I arrived in the clinic in July 2023 and so far it has been such a warm and welcoming experience. I appreciate everyone's authentic self and transparency of the clinic and their team. This has helped me feel like I know who I am working with and who I am working for.
Have you faced challenges so far in your time at the clinic?
I would not say I have faced challenges yet during my short time here but I am sure that I will be faced with challenges in the future but have no doubt in my mind that the team I have around me will be supportive and help with the challenges I run into.
What do you hope for clinic and your clients?
I hope that the clinic can keep its reputation for its professionalism and its hope for military, military families, and extended families when seeking care.
What do you like to do for fun?
I like to play with my kids, bike, swim, run, workout, and anything active really. I also like to paint and do pottery. This is something as a mom with littles that I am slowly but surely taking time to do more of.
Favorite sports team?
I have never been a huge sports person HOWEVER! I will represent all Colorado teams.
Go Broncos!
Go Denver Nuggets!