Meet the Team: Jacquelynn Reid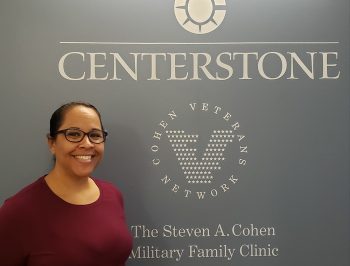 At the Steven A. Cohen Military Family Clinic at Centerstone in Fayetteville, our team is phenomenal. Every staff member plays a critical role in accomplishing our mission—to ensure our clients receive the care they've earned. Our team carries out this mission with a passion that inspires. Here's a closer look at one such teammate, Jacquelynn Reid, LCSW, Clinician.
Tell me a little bit about yourself, such as where you grew up and your background leading up to joining CVN?
I have had military connections before I was even born. I was born into an active-duty military family in Germany. From there, we lived an adventurous life going wherever the Army took us, including places like Guam and Hawaii. We spent a lot of time on Fort Bragg, so this area, especially Sanford, is home for me. Somewhere along the way as a young adult, I found social work and that's when life really began. I started my social work career in child protective services. There, I fell in love with supporting families to reach their potential in their happiness and safety. That love and passion as followed me throughout my life and career. When the opportunity with CVN presented itself, it seemed like the perfect combination of things that were important to me: helping people find their best selves and getting back to my roots with the military population.
You've taken life experience and built a career to help others. What was your greatest takeaway from this process?
My greatest takeaway from this process has been the ability to understand what most people need when they come to therapy. Therapy isn't for advice. It's about understanding your struggles and figuring out how to get in front of them…to be coached into creating your own solutions. Listening and making people feel seen and heard will go further than anything you'll find in a manual.
How have things been going at the clinic since you arrived?
Things have been going really well since I've been here. I feel like I've been able to integrate well with the other therapists, and we have a great time together. I love the work that I do.
Have you faced challenges so far in your time at the clinic?
So far, my biggest challenge has been whatever Cerner throws at me from day to day. Finding the confidence to step out and try new things has been a challenge. I have been accustomed to individual therapy for most of my clinical career. However, the gentle push into working with couples and families was initially challenging, but I am appreciating these new challenges.
What do you hope for the clinic and your clients?
This population is so close to my heart and has been a big part of my life, so sometimes listening to my clients share their stories about their lives, including their combat experiences and their troubles reintegrating back into their homes, is hard. They've made incredible sacrifices and rarely ever complain. My hope for the clinic and our clients is that we can always be known as a safe place for them to come and talk honestly about their experiences. My hope is that we can provide positive therapy experiences so that we continue to break down the stigma that keeps our service members and veterans suffering and on the sidelines of their lives with their families and children. My hope is that we as a clinic, can continue to change the trajectory of the lives of these service members so that they can reach out and help out their brothers and sisters who feel like their situations are helpless.
What do you like to do for fun?
I'm a mom to three children who play sports and engage in nearly every extracurricular activity the schools offer. We like to play card games after dinner. So far, their favorite has been Cards Against Humanity. There is no greater fun than watching and hearing your children belly laugh. I like to read mystery and therapy books when I'm not watching adult-oriented animated programs (think Rick & Morty). When it's warm, I try to get to the beach a couple of times a month and then the mountains in the fall.
Favorite sports team? The Panthers. I know they're not the best but at least I didn't say Dallas Cowboys.