Meet the Team: Liz Monge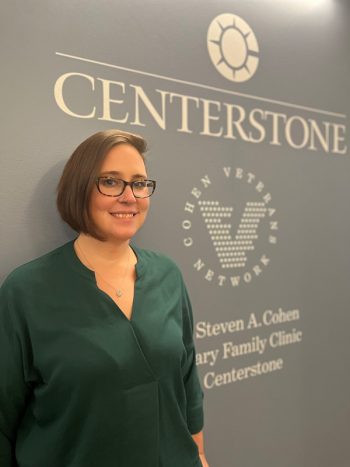 At the Steven A. Cohen Military Family Clinic at Centerstone in Fayetteville, our team is phenomenal. Every staff member plays a critical role in accomplishing our mission—to ensure our clients receive the care they've earned. Our team carries out this mission with passion that inspires. Here's a closer look at one such teammate, Liz Monge, LPA, LCMHC, Clinician.
Tell me a little bit about yourself, such as where you grew up and your background leading up to joining CVN?
HI there! I 'm Liz. I grew up in Fayetteville, N.C. My family stayed here after my father separated from the Army. I am a mom to one human and a small hoard of animals. I have worked with trauma in all of its various presentations over the course of my career. I have experience in counseling individuals across the life span and performing psychological testing as well.
You've taken life experience and built a career to help others. What has been your greatest takeaway from this process?
Building resiliency and a social support net that can help fill in the gaps is really importance. Everyone falls sometimes, it's easier to bounce back when you have the resources to support you.
How have things been going at the clinic since you arrived?
Things are going well! I've enjoyed meeting all of the staff and learning all of the processes.
Have you faced challenges so far in your time at the clinic?
Not that I can think of. I feel that the process has gone rather smoothly for me. Now I should probably knock-on wood.
What do you hope for clinic and your clients?
I hope for continued growth throughout life's challenges and to freely give grace to one another.
What do you like to do for fun?
I love hiking, travel and concerts, but I also really appreciate a quiet evening with a good book.
Favorite sports team?
The New Orleans Saints!