Meet the Team: Mariah Roederer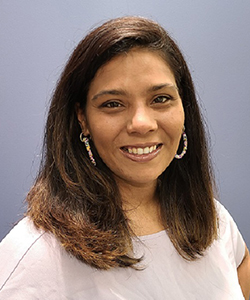 One thing is definite within the Steven A. Cohen Military Family Clinic at Centerstone – our team is a team. Each and every staff member not only plays a crucial role in accomplishing our mission to ensure our military families receive the care they've earned, but they do so from the heart and with a passion that can't help but to inspire. Here's a closer look at one such teammate, Cohen Veterans Network fellow, Mariah Roederer.
Tell me a little bit about yourself, such as where you grew up and your background leading up to joining CVN?
I was born in Virginia and graduated from Old Dominion University, go Big Blue! I loved growing up on the coast, eating seafood, and living life at the beach! Being outside, and enjoying time with my parents, three sisters, extended family and lifelong friends are cornerstones of my childhood. In college, I reconnected with my spouse while he was stationed at Fort Bragg, and we ended up married shortly after. I was pretty new to the military community, and was a little intimidated to say the least. The next ten years we spent in a few places, and I greatly enjoyed meeting people and the community our family built at each place. I found a beauty in strength and perseverance of service members and their families. It wasn't always easy, but it was usually worth it.
After college, I decided to enter in to education. I love children, and it was important to contribute to making our country and world a better place (having summers off was not a bad gig either). While I was a teacher, I had the opportunity to teach in a few different locations, and noticed a huge need for social and emotional learning in our schools and community. So after five years, I decided to make the switch to Social Work and enrolled at Tulane University's Master of Social Work program.
Fortunately, I was given the opportunity to train at the Watters Family Life Center at Fort Bragg, and consider my time there invaluable. It was there that I truly found my heart for working with veterans, service members and their families. I was a trained in a few evidence based models of therapy and truly see both the science and art of a therapeutic relationship, and how people find meaning in their lives, marriages, and families.
When we found out we would call the Clarksville area home, I was excited to join the CVN team. CVN has a reputation of delivering high quality services to their clients, and equipping their staff to do so. Since I have begun working here, I have been able to experience how true that is first hand. It is my biggest honor to work within a community I am a part of, and walk next to others through their therapeutic journeys.
You've taken life experience and built a career to help others, what was your greatest takeaway from this process?
I think my greatest takeaway is how powerful and lovely people are. The people I have come across while doing this work impress me. Even in the worst circumstances, watching perseverance occur first hand, and find meaning in their lives despite the hardship is magical.
How have things been going at the clinic since you arrived?
Things are going well! It has been great to join the team, and I am honored to work with the clients who come into the clinic. I love my job. Meeting each person and being able to be a part of their journey and walk next to them as they have triumphs, is a huge gift in my life. As always there are bumps in the road learning new systems at work, and learning Clarksville as a new resident, but the support I have gotten from our team has been immeasurable. It's easier when you know you're not doing life alone.
Have you faced challenges so far in your time at the clinic?
In our line of work, were walking in the most sacred places of people's lives. I take that work so seriously, and consider it a privilege to walk next to people in this journey. It is important to me that they get the best care possible. So when facing challenges within providing therapy or managing my case load, turning to the team and knowing that my client is getting not only my mind but the expertise of a team of highly skilled clinicians, makes the challenges seem not as large.
What do you hope for clinic and your clients?
My hope for my clients is that they receive high quality care while here. They are able to find hope and are able to be on the journey to healing. My hope for the clinic is that we continue to work towards providing high quality care, and are able to provide an environment for change and healing to occur.
What do you like to do for fun?
I enjoy spending time with my family and friends, particularly being outside, making new memories, and laughing. I also enjoy running, reading historical fiction, listening to podcast, traveling, and trying out new hobbies.
Favorite sports team?
Washington Redskins and St. Louis Cardinals, but I love watching games in any ball park or stadium!