Meet the Team: Morgan Santana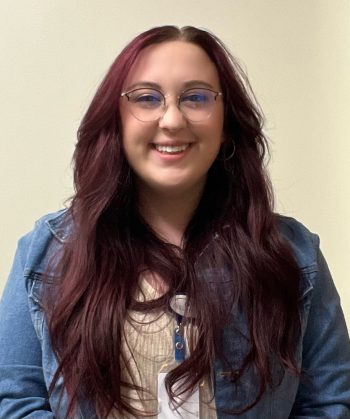 One thing is definite within the Steven A. Cohen Military Family Clinic at Centerstone – our team is a team. Each and every staff member not only plays a crucial role in accomplishing our mission to ensure our military families receive the care they've earned, but they do so from the heart and with a passion that can't help but to inspire. Here's a closer look at one such teammate, Case Manager, Morgan Santana.
Tell me a little bit about yourself, such as where you grew up and your background leading up to joining CVN?
I was born in West Helena, Arkansas, but I grew up in Biloxi, MS after moving there when I was 6 months old. I have 4 siblings and we are all vastly different. I graduated from Biloxi High School in 2013 and went to Mississippi Gulf Coast Community College with the hopes of getting into nursing school. Specifically, I wanted to specialize in Psychiatric Nursing. After visiting a friend's mother who worked in a local psychiatric ward of a hospital, I quickly learned that I was going to school for the wrong thing, so I changed my major to Psychology. I didn't know what I wanted to do, but I knew that it was going to involve doing something to help with mental health. I also had a passion for the veteran population as Biloxi is home to Keesler Air Force Base and a popular retirement location for military. After traumatically losing a sibling in 2015, I came into contact with my first social worker (who was actually a teacher, ironically) and learned about the wonderful, abundant world that is Social Work and quickly changed my major for the last time. After graduating from community college in 2016, I transferred to Mississippi State University where I delved more into the world of Social Work and graduated in 2018 with a Bachelor of Social Work. I entered into a post-graduate degree in Advanced Clinical Social Work at Walden University, from which I graduated in 2020. Throughout my time in school, I got married and my husband joined the Army, which is what brought us to Clarksville. I worked as a Patient Advocate and Financial Counselor at an Oncology center for two years after arriving here. During this time, my passion for social work and the military population only increased as I saw the strain it took on our clients, most of whom were retired military. Within a year of obtaining my Master's degree, I learned about our local Cohen clinic and immediately applied for a position as I was so excited in the possibility of finally working with the population that I've desired to help for so long. I am currently working towards obtaining licensure and becoming a clinician so that I may procure a full caseload of therapy clients and finally utilize the passion and education I've worked so hard to achieve.
You've taken life experience and built a career to help others, what was your greatest takeaway from this process?
Life has a way of messing with all of us. None of us are immune to that. The biggest take away from that is that we are all deserving help, no matter the circumstances.
How have things been going at the clinic since you arrived?
Great! There have been a lot of changes since I joined but I'm amazed at the level of support that comes from coworkers and leadership here.
Have you faced challenges so far in your time at the clinic?
Adjusting to all of the processes here has been the most difficult, for sure!
What do you hope for clinic and your clients?
I just hope that all of our clients get the services that they need to process so that they may let go of the complications that plague them and go on to live happy, comfortable lives.
What do you like to do for fun?
I love reading! I also am referred to as "Nap Queen" in my family. So, it's safe to say that I like to nap in my free time.
Favorite sports team? Mississippi State sports have my heart. Hail State! *Cue the cowbells*